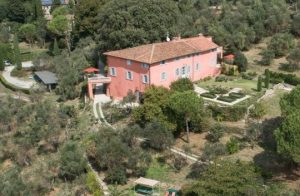 Thinking of leaving America?  Here's an sample – and Italians hold out on price too!
On June 4, just a day after Italy opened its borders to European Union citizens, real-estate agent and reality TV star Fredrik Eklund boarded a plane from Los Angeles to Milan, with a pit stop in Paris. With Covid-19 fears still high, the airports were nearly deserted, with restaurants and lounges shuttered and passengers scuttling around in face masks. The experience was like being in a sci-fi movie, said Mr. Eklund, 43.
An L.A. resident with both American and Swedish citizenship, Mr. Eklund was visiting Italy on a personal mission—to scour Tuscany for the summer estate he had dreamed of for decades. With Northern Italy hit early and hard by the coronavirus pandemic, the real-estate market in the region had been stalled for months, and he thought there might be bargains.
"I'm not there to take advantage of a situation, but the reality is that there has been no local activity because the market has been shut down," said Mr. Eklund, an agent at Douglas Elliman.
Mr. Eklund is one of many potential home buyers looking for deals in Tuscany amid the pandemic. Real-estate agents in the region said they've seen an enormous surge in inquiries for rural Tuscan retreats as the nation has begun to recover from the Covid-19 crisis, predominantly from British and American nationals looking for vacation homes as well as Italian urbanites dreaming of more space after having been stuck in apartments for months. Agents now forecast that, if it keeps up, the third quarter of 2020 could eclipse last year in terms of transaction volume for luxury homes, spurred in part by new laws that limit taxes on foreign income for Italian residents.
It's a much needed injection of activity for the Tuscany market, which has struggled in recent years as the eurozone economy has slowed and more recently as Brexit fears and exchange rates stymied investment from the U.K. Then market activity dropped by about 90% in the spring as a result of the virus, said Mark Harvey, the London-based head of the international department at brokerage Knight Frank.
"It's a bit of a feeding frenzy, which is not at all what we were expecting," Mr. Harvey said of the recent influx of interest, noting that the pandemic forced many people to re-evaluate their living arrangements.
Mr. Eklund had very specific criteria for his new home, which he plans to visit in the offseason and rent out in the summers. He was looking for a historic estate in the countryside within driving distance of an international airport, with at least five bedrooms for his family and their nanny plus guests. He wanted a home that was private but still within a few minutes of a town with restaurants and shopping. In terms of budget, he was trying to keep it under roughly $3.5 million but also looked at more expensive properties. And, most importantly for Mr. Eklund, who has an enormous following on social media thanks to "Million Dollar Listing," it had to have that Instagram magic.
"This might sound a little materialistic, but it needs to have a certain look, like Instagram-friendly," he said. "It needs to have this 'I need it, I want it, can't live without it' look."
In part, that's because Instagram could be a crucial tool for renting out the property when he's not using it, he said, noting that social media is now more powerful for him than any listings service.
Ultimately, Mr. Eklund's favorite property was a more modest, 17th-century farmhouse in San Casciano dei Bagni, a rural region known for its hot springs about 40 miles southeast of Siena. He loved the panoramic views of the region from the hilltop, the large outdoor swimming pool, the kitchen with its huge central island, and the "warm and cozy" palette of the décor, he said. With just four bedrooms, the nearly 5,000-square-foot house had slightly less space for guests than Mr. Eklund originally wanted, but it had been recently restored and was the only house he saw with central air conditioning and heated floors. To make it perfect, he said, he would add outdoor furniture and do some landscaping. The asking price was $1.5 million.
After seeing the property, Mr. Eklund felt sure it was the one.
"I found it," he told The Wall Street Journal by phone after the showing. "I'm actually crying in the car—super emotional. I'm completely obsessed."
Mr. Eklund, who calls himself spiritual, said that the purchase seemed meant to be, and that he could envision himself retiring at the property. It was the same overwhelming reaction he recalled having when he first saw his family's estate in Connecticut.
Mr. Eklund submitted an offer on the house, but the deal was complicated in part by travel restrictions, since he wants his husband to see the property before they buy. They may hold off until next year to move ahead with a purchase to see how the market is then, he said.
It's not clear if the deals Mr. Eklund envisioned will materialize. Bill Thomson, chairman of the Italian Network at Knight Frank, said his sellers are standing firm on their asking prices despite the pandemic fallout, while Ms. Romolini said she's seeing them loosen up a little in light of the circumstances.
Mr. Harvey said he's not sure if this surge of activity will last, or if it's simply a blip.
"What happens after this wave," he said, "is anyone's guess."