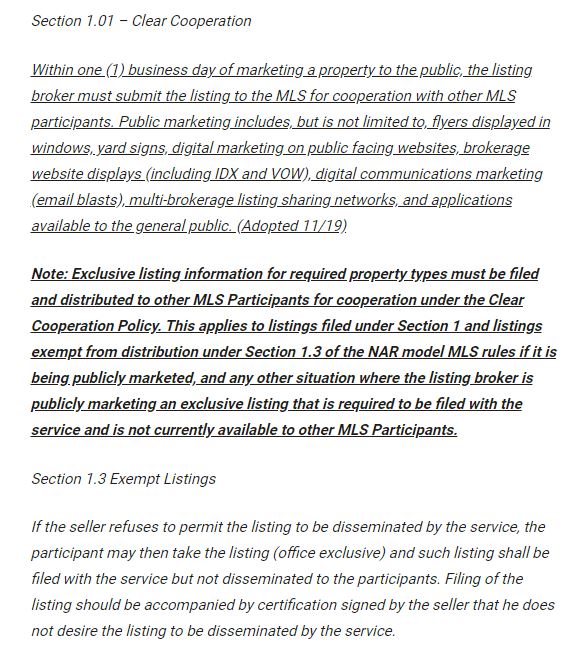 The new N.A.R Clear Cooperation Policy takes effect on May 1st.
Next Monday, the CRMLS will begin a Coming-Soon category in the MLS for agents only. The listings can only be in the coming-soon category for 21 days, and no showings are allowed.
But the feature won't be part of the San Diego MLS.
Realtors in San Diego County are split between one faction that wants to join CRMLS (which is the MLS provider for most of Southern California), and the other association of realtors who wants to be on their own. The compromise was a data-sharing agreement that allows both MLS systems to facilitate agent access to the county-wide inventory.  But because the SDAR won't cooperate, there won't be a Coming-Soon category developed in the San Diego MLS.  But it is coming to the rest of Southern California next week – but for agents only, and no showings so I guess it's an FYI to the realtor community.
So there won't be much change to the casual observer in San Diego County.
Multiple agents asked the question, "How can I sell my Coming-Soons if I can't show them?", demonstrating how oblivious some realtors are on why the new rule was created in the first place – to stop agents from doing off-market deals, and, instead, share all their listings with every realtor.
I sell yours, and you sell mine!
But realtors do have the option to take the listing as an office exclusive and distribute it among agents within their brokerage for days or weeks before putting it on the open market.  It is inevitable that 20% to 30% of our listings will be sold off-market, and they will be the choice properties that don't need mass exposure to find a buyer.
Why will these off-market deals persist, when NAR is trying to prevent them?
Because the industry looks the other way.
As long as the inventory is tight, agents will be motivated to keep their listings within the club – at least for the first few days or weeks while they get it ready for market. If it sells prior to going onto the MLS, then great – and no risk of getting the corona from all those strangers coming around.