Last Wednesday I was discussing the current market conditions with Candis while at her listing of a Davidson home on Calle Pera – which we both thought was priced right and should be selling in spite of it being on the market for 50 days.
I mentioned to her that it seemed like home buying comes in waves, or surges now.  The market goes quiet for a few weeks, then a bunch of homes will sell at the same time. We agreed that her listing should be the next to go pending….and if/when it does, will several more will go pending too?
Looks like it!
Since Wednesday, we've had 63 new pendings, including hers on Calle Pera!  You could say that we're just coming off the holidays, but this isn't the spring selling season…yet. Or is it?
It's not just the hot new listings either – only 15 of the 63 new pendings had been on the market for seven days or less.  Here are eleven that had been on the market for 100+ days: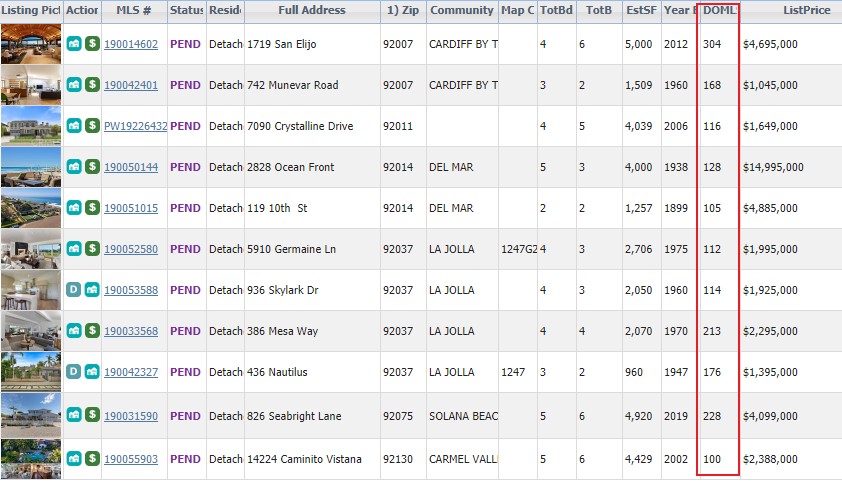 When eleven homes go pending that have been on the market for months, it's not a fluke – those are retail sales happening early!  With good weather and no football this weekend, the lucky streak should continue.
Are you waiting to put your home on the market?  The reason to list it sooner instead of later is to avoid competition.  There probably aren't many if any other listings around you now, and that could change in a hurry – and have impact on your eventual sales price.
I'm nervous about the competition between two-million-dollar condos in downtown San Diego, so I put our new listing on compass.com as a Coming Soon to gain some awareness among buyers while we do a quick spruce up.  It appeared on our website yesterday morning, and since then Compass agents have inputted another 19 new Coming-Soon listings!
Hopefully the early momentum will feed on itself. Let's go!!