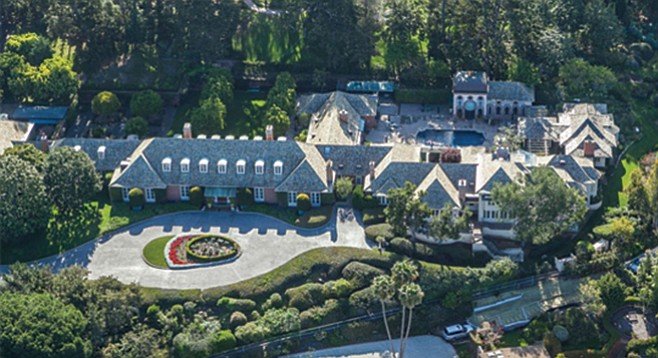 You may have seen the Wall Street Journal's feature on Papa Doug's listing that he's hoping to sell for $10 million more than he paid in 2015.  The Reader picked up a few more details – an excerpt:
Manchester finally managed to untie the knot with first wife Betsy, whom he married in January 1965, in 2013. During the couple's contentious four-year-long divorce proceedings, Betsy unrolled a bevy of anecdotes about her husband's over-the-top lifestyle.
"As an example of the standard of living that DOUG and I enjoyed during our long marriage, in 2007, we threw a birthday party for DOUG at the Manchester Grand Hyatt," wrote Betsy.
"There were over 220 guests, and the party alone cost more than $200,000. We then flew to Costa Rica on a private Gulfstream IV jet and went on a week-long cruise in Costa Rica aboard a chartered 165-foot private yacht. After the cruise, we returned home on the Gulfstream IV jet.
"The Costa Rica trip cost in excess of $350,000."
Manchester married Geniya the weekend before Christmas 2013 in similar style, causing one neighbor to complain on Twitter, "Did Papa Doug Manchester have to disturb all of Carmel Valley with his marriage fireworks last night? My dog barking like crazy."
Then followed a merry-go-round of high-society party life and eight-figure residential real estate deals, including the purchase in 2015 of the historic Fairholme estate in Newport, Rhode Island for $15 million, which he flipped for a reported $16.1 million in February of 2016
Also, in 2015, Manchester picked up Foxhill, the sprawling La Jolla estate of the late Union-Tribune publisher Helen Copley, from the estate of her son David for about $27 million. He subsequently sunk additional millions into the property for extra bedrooms and other accouterments to accommodate his wife and the couple's three young children.
Now, with his latest try at homespun marital bliss history, per the court filings, Manchester, father of a total of eight children and grandfather of thirteen, has placed the real estate on the market in two parcels, asking $37 million for both.
"Mr. Manchester's spokeswoman said he is selling to ' downsize,' reports the Wall Street Journal, which also offers a description of what it calls "an elaborate French chateau-style estate" equipped with "its own four-hole golf course."
"The estate is about 27,000 square feet and has historic flair, with four-poster beds, gilded detailing, original moldings, wood paneling, chandeliers and stained-glass windows," according to the account.
"A billiards room is outfitted with plaid carpeting; lampshades have fringe details topped with gold fox ornaments. One of the bedrooms has blue coffered ceilings, blue patterned carpeting, and gold-and-blue curtains with ornate tassels."
Link to Full Article
Link to Zillow Listing