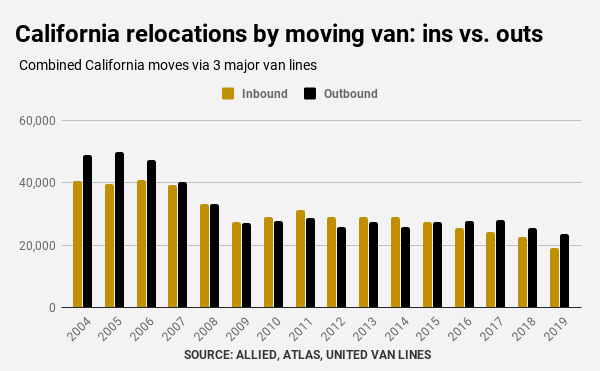 The number of people moving is half of what it used to be.
The gap between who's left California by major van lines, and who's arrived, is now at its widest in 13 years.
Every January three major van lines put out data on their state-to-state moving business. Such interstate moves by van lines are a shrinking migration niche for folks with deep pockets. Corporations have shied from paying the pricey tab for professional relocation services. Not to mention that Americans overall aren't relocating like they once did.
Inbound moves: The state's real problem. Americans may visit the Golden State, but don't want to live here. So just 19,196 inbound van moves last year vs. 22,492 in the previous year — down 15%. Last year is 37% below the 16-year average. Census data for 2018 showed the total number of Californians arriving from other states was the lowest in five years.
Outbound moves: Departures, a focus of the grand California "exodus" discussions, are falling, too. Last year's 23,595 outbound van moves were down 8% in a year to 25,618. Last year is 27% below the historical average. Census figures for 2018 show Californian's total departures rising for the seventh consecutive year.
The "net" result: Last year California suffered 4,399 more outs to other states vs. arrivals, the largest since 2006, and up from 3,126 in the previous year. Since 2004, California has averaged a net van-line outflow of 1,731 a year. By Census math, California's total "net outmigration" was at its widest gap since 2009.
Link to Article