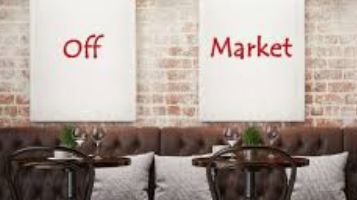 Let's touch on this topic one more time as a new season opens up.
While our 2020 market should be promising, the actual results won't be as obvious.
Reasons to be optimistic about this year:
Rates are really low, though we expect that now and it won't set off a frenzy.
Prices have been moderating, which gives the buyers some confidence.
We are overdue for more boomer inventory.
But don't expect to see a bunch of hot buys hitting the MLS.
Now that the N.A.R. has laid down specific rules for off-market sales, agents are going to take advantage.
While every brokerage will have an internal network to promote new listings within the company prior to MLS-input (which is allowed), the individual realtor teams will run their latest hot listings through their stable of buyers first, before giving the rest of their company a crack at it. Only when those attempts have been exhausted will a listing find its way to the MLS.
It may only be 5% to 10% of the market, but it will be the very best 5% to 10% – those listings that every buyer wants.  Without seeing those hot buys flying off the MLS within days, there will be less urgency and a false malaise setting in with those who are judging the market just based on the MLS activity.
The public won't have a clue, either.  They will be forming their own opinions about the market based on what they see on Zillow, never knowing there is a secret pre-marketing – and selling – of the best listings.  It will only be those who attend open houses who will get pitched to leave their contact info to receive their off-market buys (it will be the most-heard pitch of the year at open houses).
Don't sellers object?  Not really, not when it is presented as a better alternative to having strangers traipsing through their house at all hours with little or no notice.  It also becomes the happy option in between selling to Zillow for less and taking a chance on the open market.
Are the off-market sales valid comps?  Everyone is going to assume they are, so let's include them and figure they may have fetched a little more on the open market.
The rest of what happens in 2020 should look similar to what we had in 2019 – with the amount of inventory dictating the outcome.  Even though buyers may be more active early on, as Diana claimed today for a second time, the higher-end areas should find the buyers being more deliberate, especially if they can't get their hands on those prime listings.