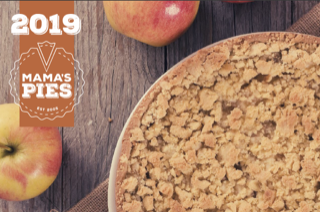 It's the holidays and many of the local food pantries are providing meals for those who are less fortunate.
We want to assist others who are struggling or could use a helping hand.  We have teamed up with Mama's Kitchen who provides full meals to their clients who are too sick to cook/shop for themselves because of medical illnesses such as HIV or cancer.
Their primary fundraiser is Mama's Pies, where local restaurants, bakeries and caterers donate thousands of pies that are then sold to others.  Each pie sold provides 8 meals for the clients of Mama's Kitchen.
Help us, help them!
Apple, Pumpkin, Pecan and Crunchy Dutch Apple sell for $25 each, and the first one is on us!
For your FREE PIE, email us at klingerealtygroup@compass.com and let us know what flavor you want – Apple, Pumpkin, Pecan or Crunchy Dutch Apple.  Then on Monday, November 25th, come to our office at the La Costa Resort to pick it up.
If you want or need more than one pie for your Thanksgiving Dinner, you can buy additional pies through us so Mama's Kitchen can serve more meals this holiday season.  All you have to do is click on the link below to order your additional pies.
How to Purchase Additional Pies:
Click on BUY A PIE
Choose your pies flavors
Select TEAM – Klinge Realty Group
Pick up location – Private Location – Compass office at the Omni La Costa Resort
Enter your payment information & you're done!
We need your Free Pie and additional Pie Orders no later than this Friday 11/22.
Can you please join us as we Give Back – One Pie at a Time?
We hope to see you next Monday!