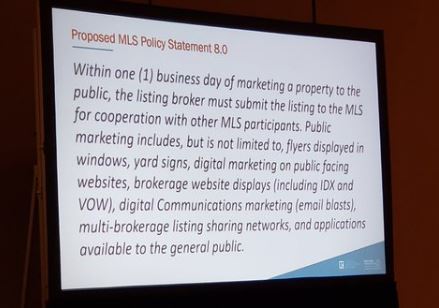 Yesterday, we entered into the final phase of the MLS implosion, with the latest blow being delivered by the National Association of Realtors themselves.  Instead of strictly forbidding Off-MLS sales, they have tried to appease everyone by concocting a lightweight, middle-of-the-road policy that will just make the problem worse:
The National Association of REALTORS®' Board of Directors approved MLS Statement 8.0, also known as the Clear Cooperation policy, at its meeting Monday. The policy requires listing brokers who are participants in a multiple listing service to submit their listing to the MLS within one business day of marketing the property to the public.
NAR's MLS Technology and Emerging Issues Advisory Board proposed the policy as a way to address the growing use of off-MLS listings. The advisory board concluded that leaving listings outside of the broader marketplace excludes consumers, undermining REALTORS®' commitment to provide equal opportunity to all. The policy doesn't prohibit brokers from taking office-exclusive listings, nor does it impede brokers' ability to meet their clients' privacy needs.
Here's the full text of MLS Statement 8.0:
Within one (1) business day of marketing a property to the public, the listing broker must submit the listing to the MLS for cooperation with other MLS participants. Public marketing includes, but is not limited to, flyers displayed in windows, yard signs, digital marketing on public facing websites, brokerage website displays (including IDX and VOW), digital communications marketing (email blasts), multi-brokerage listing sharing networks, and applications available to the general public.
MLSs have until May 1, 2020, to adopt the policy.
Rationale: Distribution of listing information and cooperation among MLS participants is pro-competitive and pro-consumer. By joining an MLS, participants agree to cooperate with other MLS participants except when such cooperation is not in their client's interests. This policy is intended to bolster cooperation and advance the positive, procompetitive impacts that cooperation fosters for consumers. The public marketing of a listing indicates that the MLS Participant has concluded that cooperation with other MLS participants is in their client's interests.
https://magazine.realtor/daily-news/2019/11/11/nar-passes-mls-proposal-to-strengthen-cooperation