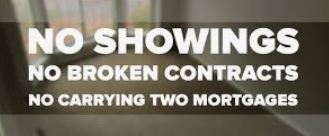 We saw an example yesterday of a seller who didn't have a problem finding a cash buyer who was willing to pay 10% below their original list price.
For the homeowners who are fascinated by the idea of selling quick and easy and might take a discount for such a convenience, I can now offer an ibuyer option as well as my retail estimate of value.
The ibuyer quote is from an independent third-party, not from me or Compass, and frankly, I think you should sell using my traditional method because I think you'll come out ahead in the end.  But if you can't wait, I'll set you up with an ibuyer who can cash you out right away.
I'm not crazy about the idea, but I think it is inevitable that every realtor will have to offer every option as part of their fiduciary duty to the seller.
I still think it is a conflict of interest for the agent to offer to sell the property traditionally AND make an offer to purchase with their own money.