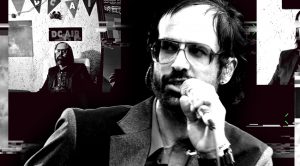 Two weeks ago, David Berman died at age 52. Here's what wiki says:
David Cloud Berman (born David Craig Berman; January 4, 1967 – August 7, 2019) was an American musician, singer, poet and cartoonist best known for his work with indie-rock band the Silver Jews. Although the band primarily existed as a recording project for most of its existence, the Silver Jews toured regularly from 2005 until 2009. In January 2009, Berman announced his retirement from music in hopes of finding a meaningful way of undoing the damage that his estranged father Richard Berman (a lobbyist and public relations executive for the alcohol and tobacco industries, among others) had brought upon society.
In addition to the six full-length albums that Berman wrote and recorded with the Silver Jews, he released two books: Actual Air (1999) and The Portable February (2009). In early 2019, Berman returned to music under the new band name Purple Mountains, releasing a self-titled debut albumin July 2019. On August 7, 2019, Berman was found dead in an apartment in Brooklyn, New York. His death was ruled a suicide.
I had never heard of the guy, but Giorgio and others raved about his contributions:
https://uproxx.com/indie/david-berman-silver-jews-purple-mountains-rip/
https://www.theatlantic.com/entertainment/archive/2019/08/david-berman-silver-jews-and-purple-mountains-rip/595720/