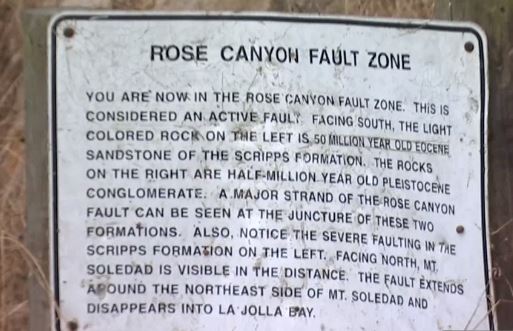 After two major earthquakes rocked Southern California over the holiday weekend, many looked to one of San Diego's own fault lines as a potential threat — but one seismologist says that's hundreds of years away.
Drake Singleton is a Ph.D. candidate at San Diego State University whose thesis focuses on the Rose Canyon Fault, which runs through some of San Diego's most populated areas.
Singleton's work is helping to determine how fast the Rose Canyon is moving at depth — an important parameter to accurately characterize the seismic hazard for San Diego.
Several years ago, Singleton was part of a team that created a so-called "paleoseismic trench" in Old Town's Presidio Park. He estimated earthquakes occur on the fault line every 700 years, on average — and that the last earthquake struck in the mid-1700s.
"The Rose Canyon fault line, based on the data that we have, looks like it's right in the middle of its cycle and not toward the later. I would say the seismic hazard is lower than other faults in California, but still there," Singleton told NBC 7.
He said there is a lower seismic hazard compared to the San Andreas and San Jacinto fault lines. But he also added the Rose Canyon Fault could potentially have a maximum magnitude in the high 6s — or possibly a 7.
"A lot of major freeways cross the fault zone, so there would be disruption to travel as well as damaged water pipes, that sort of thing," said Singleton.
The San Diego County Office of Emergency Services, using a FEMA disaster evaluation model, put together estimated damage figures based on a 6.9 magnitude earthquake along the Rose Canyon fault line.  Costs would include $1,094,267,000 in structural damage, $5,317,666,000 in non-structural damage, and $1,972,043,000 in contents damage.
Additionally, the county estimated that 122 to 292 people would be hospitalized, 1,307 to 1,720 would need basic first aid care, and somewhere between 12 and 57 people would die.

https://www.nbcsandiego.com/news/local/Seismologist-Examines-San-Diego-Fault-Line-After-Two-Major-Quakes-512447351.html