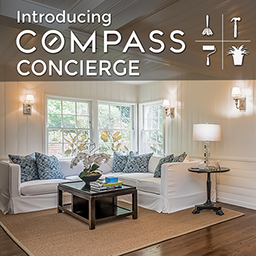 Are you thinking of selling your home, and curious about the idea of out-fitting it for a multi-gen buyer?  Or want help in getting the home into top condition in order to sell it for top dollar?
We're here for you!
The Compass Concierge program is willing to pay for repairs/improvements to your home, and be reimbursed at the close of escrow.  At first, the program was just for the basics, but it's been expanded to include virtually everything!
And it's free – the service comes with listing your home with us, at no extra charge!
Here are examples of what's been done lately:
In Los Angeles, an agent used Compass Concierge to buy — not stage, but buy outright — $900,000 worth of furniture in order to win two listings, one worth $23 million and the other worth $87 million.
In Philadelphia, an agent was in the midst of a contentious divorce sale. The husband and wife weren't talking and neither wanted to pay for the staging, painting, and cosmetic repairs the home needed. So the agent pitched Concierge as the solution, and solved the problem!
There was a buyer looking at a million-dollar property listed by a Compass agent that needed a lot of work, but the buyer couldn't afford to pay a $200K down payment and then shell out another $200K in cash for remodeling. The seller and buyer came to an agreement that the seller would use Concierge to do a $200K remodel first — raising the sale price to $1.2 million but only increasing the down payment by $40K. The buyer was floored.
To get started, click below: