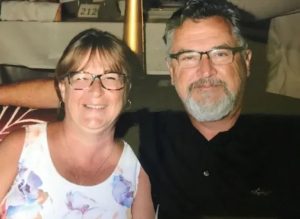 Those who bought at the high-end of the last cycle are, well, doing it again:
After Teresa & Mark Taunton short sold their $535,000 four-bedroom home in Celebration, Florida, at the end of the real estate meltdown in 2011, buying another house was the last thing on their minds.
"It makes you feel you could somehow end up in the same position," says Teresa, 57, describing the anxiety the couple experienced after selling their house for less than what they owed the bank. "We were just so leery of everything."
But in late February, five years after they were officially allowed to make another home purchase, they closed on a modest ranch house for less than half the price of their former Orlando-area unit and just minutes away.
"We were really tired of renting," Teresa says. Of their new house, she adds, "It's comfortable. It's home."
With rent, "You're looking at (shelling out) $20,000 to $30,000 a year and you have nothing in return," Mark adds.
There are signs that a growing number of Americans who lost homes to foreclosure or a short sale during the housing crisis are emerging from their post-crisis bunkers and buying again or planning to do so in the near future.
From 2006 to 2014, there were 7.3 million housing foreclosures and 1.9 million short sales, according to CoreLogic, a housing research firm. After a foreclosure, a prospective buyer must typically wait seven years to qualify for a mortgage guaranteed by Fannie Mae or Freddie Mac. The wait can be three years in certain circumstances, or for a Federal Housing Administration loan, but people who wait seven years generally benefit from higher credit scores and lower interest rates.
A short seller generally must wait three years to buy again.
Of 2.8 million former homeowners whose foreclosures, short sales or bankruptcies dropped off their credit reports from January 2016 to November 2018, 11.5% have obtained a new mortgage, according to a study by credit rating agency Experian for USA Today.
Fifty-three percent of the remaining 2.5 million had prime or super-prime credit scores in November, notes Experian Vice President Michelle Raneri. "That's 1.3 million people who have really good credit," she says. "Maybe they don't realize they would qualify now."
The Tauntons, of Celebration, could have bought another house in 2014 when the three-year waiting period after their short sale ended. But, "the memory was still sore," Mark says. "You're still in the middle of what you lost."
They lost the house they bought in 2005 in which they raised the five children of their blended family and that symbolized their attainment of "the American dream," as Mark puts it. They had their own pool and the Disney-owned community sported a movie theater and spa, among other amenities.
They kept current on their mortgage even after Mark lost his job as manager of an exclusive men's designer clothing store in the depths of the recession in 2008. But when their monthly payment jumped from $2,300 to $3,500 in 2010, they were on the verge of falling behind. Their lender advised them to stop making payments so they could get a loan modification, but it never came.
"We did everything right," Mark says, noting they had never missed a payment. "It was traumatic."
While they rented four apartments and homes, they squirreled money away and started thinking about buying again last November. Besides wanting to amass a retirement nest egg, they grew weary of renting because "you didn't get to know your neighbors," Teresa says.
This time, they resolved to spend no more than $250,000, rejecting several of the more lavish houses they visited. "You never want to go through that again," says Mark, who is now a high school teacher.
Teresa, an accountant, asked lots of questions and took meticulous notes, and the couple provided extensive documentation. Last time, "The mortgage company made it so easy," she says.
The couple, who used most of their savings to buy their previous house, "qualified for much more than the home" they purchased this time, says their Redfin agent, Mike Moore.
They made a down payment of 5% on the $247,000 house, giving them a monthly payment of $1,640. While they worry about getting hurt by another crash, "I feel a whole lot better about a $240,000 house than a $535,000 house," Mark says. "I feel like I can still control it."
Link to Article