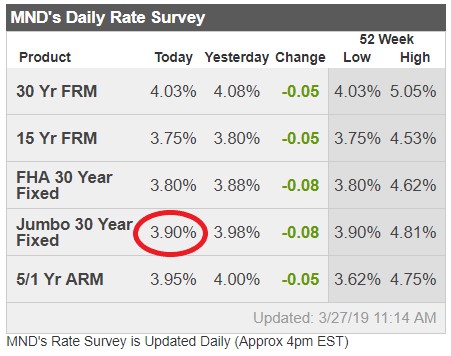 Sellers – get on the market!!!!!
Mortgage rates moved lower for the 6th straight day, bringing them very close to the best levels since late 2017. Perhaps more impressive (or telling) is the fact that rates haven't even had a single "bad day" since March 1st. It's impressive because it's been an incredibly long winning streak (we usually see a day here or there with rates nudging a bit higher). It's telling because it's exactly what you'd expect to find as the backdrop for what has been the single best month for mortgage rates in more than a decade.
The past 2 weeks have acted as a forceful breakout after several months spent in an increasingly narrow range. Such breakouts often carry momentum, especiallywhen there are surprising economic updates or central bank policy at the scene of the crime (as there was with last week's Fed announcement and European economic data).
Now we're waiting to see how low we can go. It hasn't made sense to bet on a bounce in rates so far, but that could change soon. In general, there are only so many winning days that can be strung together before the rates market blows off a bit of steam. When that happens, it will be important to note how big the bounce is and whether it lasts more than a single day. If it simply presents itself as a single, token day of correction, rates will likely be heading even lower.
Link to MND