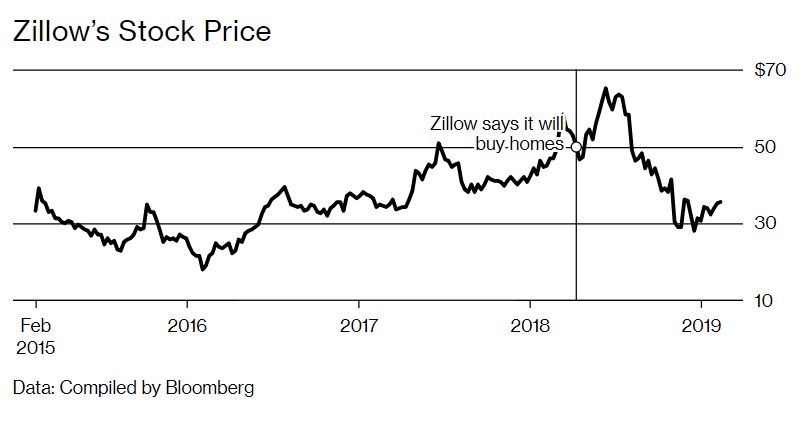 Bloomberg has this article on Spence stepping down at Zillow yesterday:
https://www.bloomberg.com/news/articles/2019-02-21/zillow-ceo-rascoff-steps-down-so-barton-can-lead-moonshot-effort
Zillow must believe that flipping homes is their future:
On average, a customer asks Zillow for an offer on their home every five minutes, said Barton, signaling there's ample consumer demand for a simplified home-selling process.
"It's like advertising free beer at a college party," he said.
They're finding out that flipping isn't as easy as it looks though.  In addition, realtors aren't spending like they used to:
In August, the company said that it was taking longer than anticipated to sell the homes it acquires. Three months later, it reported that some advertising customers were pulling their business because they disliked changes to the platform. Shares in the company, which peaked at $65.21 in June, plummeted to a low of $27 in November.
Agents may have told Zillow that they were pulling their business because of changes in the platform, but that won't be the end of it.  As the number of home sales decline nationally, realtors will slow or stop spending money – starting with the very expensive Zillow ads.
Zillow still says they love realtors, but we'll see about that.  Once their advertising income declines, and the homes they bought start piling up, it is inevitable that they will think they don't need agents any more.
The next few years are going to be exciting!