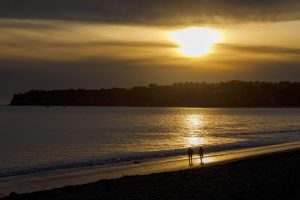 YourCoast shows users a map of 1,563 access points that the commission tracks along the California coast. Historically, this information has been available in California Coastal Access Guide books published every few years. In recent years (as a byproduct of the punitive Parker app development process), it has also been available on the commission's website.
Click on a particular access point and the app shows photos of the path to the beach — which can often be hard to find — and whether there are amenities such as parking, access for disabled visitors (with information on how to procure a beach wheelchair), restrooms or fishing facilities.
Users can also search for beaches with specific amenities and submit updated photos or report a violation to the commission. If visiting a remote stretch of coast, users can save the map and info on their phone for offline access.
The app marks as closed access points that are currently under dispute — and some remain unlisted. The commission is now tussling over access to 8.5 miles of coastline at Hollister Ranch in Santa Barbara County, and a number of access points in Malibu are notoriously contentious. Another tech billionaire, Vinod Khosla, has fought coastal officials for almost a decade over access to Martins Beach, a secluded stretch of sand south of Half Moon Bay. Hollister Ranch is not listed in the app; Martins Beach is marked "currently closed."
Jennifer Savage, California policy manager for the Surfrider Foundation, said an app like this could empower more people to explore more of California's coastline.
"There are so many places that aren't obvious, and that's a huge problem," she said. "Having an app that just spells everything out is so reassuring, it makes you so much more confident that you're in the right place."
Link to Article