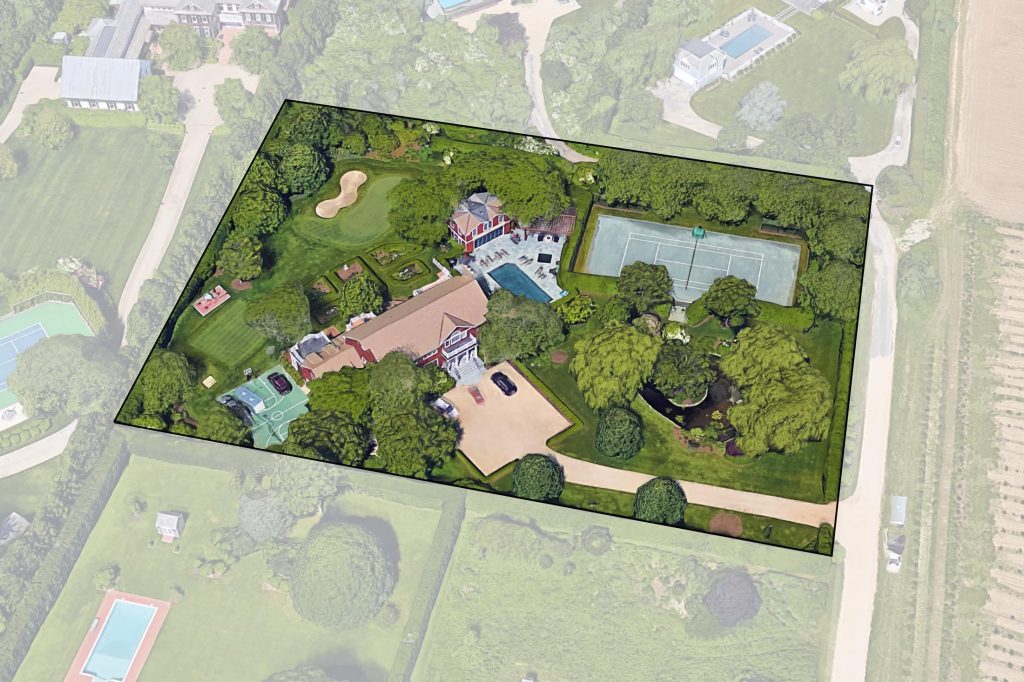 Older news now but once the federal government seizes these homes and tries to resell them, they will find out that there isn't much equity.
Paul Manafort's prized possession — a 5,574-square-foot home in the Hamptons, which includes a putting green, pool house, pergola and "waterfall pond" and where hundreds of red and white flowers were planted in the shape of an M — will be owned by the U.S. government.
It's one of five properties, bank accounts and a life insurance policy Donald Trump's former campaign chairman agreed to turn over to the government as part of his plea deal, where he admitted to conspiracy against the U.S. and witness tampering.
Manafort gets to keep his $1.25 million home at the BallenIsles Country Club in Palm Beach Gardens, Florida. The Florida location might help if Manafort is forced into bankruptcy. The state's homestead exemption allows a primary residence of unlimited value to be protected from creditors, as long as the debtor lived in Florida for 40 months or longer. Also exempt are 401(k)s, IRAs and Roth IRAs up to $1.2 million.
Here's a list of the possessions Manafort is giving up to end his prosecution:
The 10-bedroom, six-bathroom, Hamptons property at 174 Jobs Lane, Water Mill, New York, has an estimated value of $7.3 million, according to the property website Zillow.
In his application for bail, Manafort said the property was assessed at $13.5 million, with a $9.5 million mortgage. He often borrowed against properties he owned. The nearby 403 Jobs Lane, with five bedrooms and 6 1/2 bathrooms, is currently available for rent at $150,000 a-month.
A seven-bedroom, four-bathroom brownstone at 377 Union Street in Brooklyn, New York, is valued at $4.1 million on Zillow. In early January 2017, Manafort borrowed $6.5 million against the brownstone. To secure the loan, he put up $2.5 million in cash from a previous loan, and the property that was then valued at $6.3 million.
The property at 29 Howard Street in Manhattan's Soho neighborhood is one of five condominiums in the building, according to Zillow. Manafort tried to borrow $3.4 million against the condo while telling Citizens Bank that it was a second residence, although jurors in Virginia heard evidence that Manafort's family offered the unit to renters through Airbnb.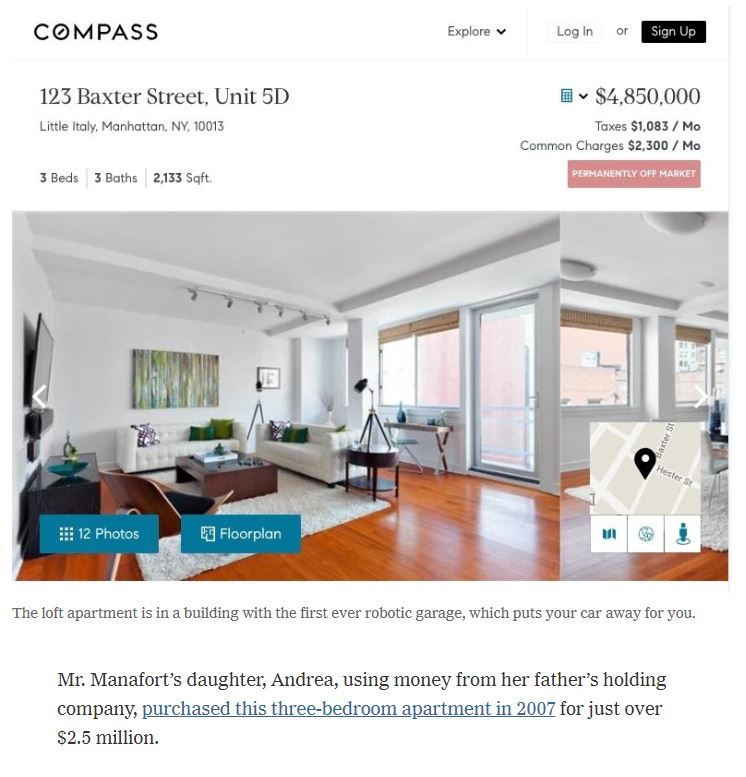 A 2,133-square-foot, three-bedroom, three-bath, apartment at 123 Baxter Street in lower Manhattan has an assessed value of $4.7 million and a mortgage of $1 million, according to court filings provided by Manafort in his bail application.
The former Trump confidant is also giving up his Trump Tower apartment. The 1,509-square-foot condo at 721 Fifth Avenue, #43G, has an estimated value of $3 million, according to Zillow. It last sold for $3.7 million in 2006, according to the website. According to prosecutors, there is a $3 million mortgage on the apartment.
In addition to the properties, Manafort agreed to forfeit funds held in two Federal Savings Bank accounts and a Capital One N.A. account. Government filings don't say how much money is in the accounts. And Manafort will give up his Northwestern Mutual Universal Life Insurance policy. In his filings requesting bail, Manafort said he had $4.5 million in life insurance policies.
The total value of the properties and accounts Manafort is turning over to the government should easily cover the cost of the Mueller probe to date, which Trump tallied at $28 million in a tweet criticizing a 14-day jail sentence handed down earlier this month to his former aide, George Papadopoulos, for lying to investigators.
Link to Article