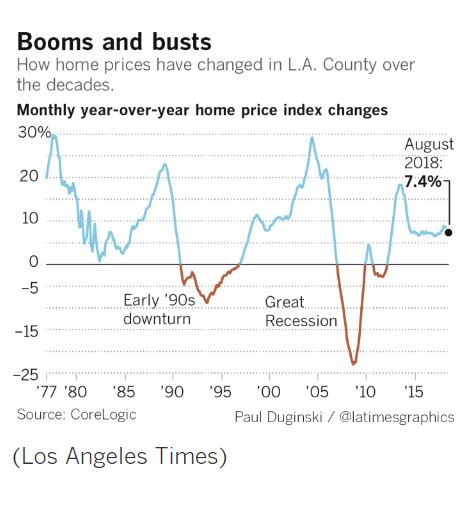 Of all the other choices over the last 40 years, I'll take the last four years as my favorite trend line!
Thornberg has been the most level-headed analyst since the bust:
The annals of postwar Southern California real estate history are full of boom-and-bust cycles, with periods of sharp price appreciation that suddenly skid to a halt. Whether those ups and downs offer any guidance — or hope — for today's homeowners is a subject for debate.
Some of those who study the housing market predict annual price increases will slow. Others think values could dip. But there is general agreement that a meltdown is not in the offing, given a healthy economy and dearth of home building. The current slowdown, said Christopher Thornberg of Beacon Economics, "is a bump in the road."
This time around, the risk of a crash from overborrowing is minimal, if not nonexistent, experts said. Reforms after the financial crisis dramatically tightened lending standards. Today, even though lending has eased somewhat, borrowers are more likely to be able to afford their loans.
That's borne out in the data:
Mortgage lending is relatively restrained. Last decade, total mortgage debt consistently grew by double digits. In the second quarter, those debts rose only 3.5% from the same period a year earlier, Federal Reserve data show.
Homeowners aren't as squeezed. Total U.S. mortgage payments in the second quarter accounted for 4.2% of total disposable personal income, the lowest level in at least 38 years. The rate was in the 6% range for most of the mid-2000s bubble, and it hit 7% just before the crash.
Borrowers are less risky. The median credit score for those taking out a mortgage in the second quarter was 760, compared to a bubble-era low of 707.
"I don't think we need to worry this time around about a bursting of a credit bubble," said Stuart Gabriel, director of the Ziman Center for Real Estate at UCLA. "We can cross that factor off the list."
Link to latimes.com article