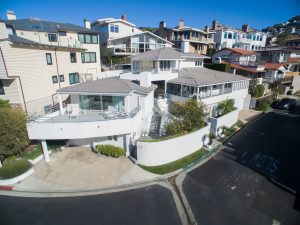 Hat tip to Kerry for sending in the final result of Warren Buffett's beach house in Laguna Beach:
Billionaire investor Warren Buffett has sold his California beach house for roughly $7.5 million, or 32% less than its original asking price, according to a spokeswoman for the listing agent.
Mr. Buffett, the 88-year-old Berkshire Hathaway chairman nicknamed "the Oracle of Omaha," first put the home on the market for $11 million in February 2017. He cut the asking price to $7.9 million in late August in a bid to spur interest. Don't feel too badly for him: The businessman paid $150,000 for the home in the early 1970s.
The three-level Emerald Bay home spans 3,500 square feet, with six bedrooms and views of the beach. Per Mr. Buffett's modest style, it is decorated with white laminate countertops and gray carpets.
"I feel very good about the couple who bought the house and hope their family gets as much enjoyment from it as our family did," Mr. Buffett said in a statement.
Link to WSJ article
It even happens to billionaires:
He had to dump on price to find a buyer.
He had to lower it again to make the deal.
His net proceeds were still fantastic!
He felt 'very good' about the couple.