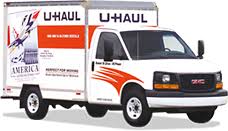 Hat tip to Rob Dawg for sending in this article on the top destination cities for U-Haul users.  Because it's just one company, it isn't the comprehensive list, but we can probably assume that these towns are where people move who are more budget-conscious, and do their own move?
Link to Article
Houston is the No. 1 U.S. Destination City according to the latest U-Haul migration trends report, continuing its run atop the list for the ninth consecutive year.
Houston saw a 5 percent year-over-year increase in one-way U-Haul truck arrivals in 2017 to maintain its status as the busiest locale for incoming traffic among do-it-yourself movers.
"We are an international city with a strong housing market," stated Matt Merrill, U-Haul Company of West Houston president. "The cost of living remains relatively inexpensive. The average paycheck goes further in Houston. Many companies are relocating here and bringing jobs to our communities. With U-Haul helping move people to the next chapter of their lives, I'm not surprised Houston is the top destination city again."
U-Haul Top 50 Destination Cities
1. HOUSTON, Texas
2. CHICAGO, Ill.
3. ORLANDO, Fla.
4. BROOKLYN, N.Y.
5. SAN ANTONIO, Texas
6. LAS VEGAS, Nevada
7. AUSTIN, Texas
8. PHILADELPHIA, Pa.
9. CHARLOTTE, N.C.
10. COLUMBUS, Ohio
11.  TAMPA, Fla.
12.  SAN DIEGO, Calif.
13.  PHOENIX, Ariz.
14.  JACKSONVILLE, Fla.
15.  SACRAMENTO, Calif.
16.  DALLAS, Texas
17.  INDIANAPOLIS, Ind.
18.  LOS ANGELES, Calif.
19.  TUCSON, Ariz.
20.  ATLANTA, Ga.