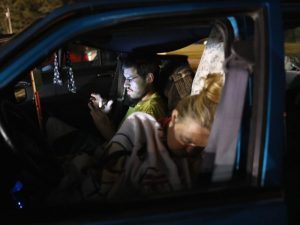 We're going to see more of this – from the unfortunate ones to those who deliberately choose to live a life untethered.
Each night at 6 p.m., San Diego's New Life Assembly church opens its parking lot to dozens of people who will spend the night in their cars. The church is one of three sites in the city where the homeless can park overnight without fear of being ticketed or towed—or worse. It's part of a citywide safe parking program started in 2010 to confront an increasingly visible face of the state's homelessness epidemic: Californians sleeping in their cars.
As housing costs soar in major cities, more Americans are living behind the wheel. The U.S. Department of Housing and Urban Development doesn't collect national data on vehicle residency, but unsheltered homelessness—a category that includes people sleeping in vehicles—is on the rise.
In 2016, HUD counted 176,357 unsheltered people nationwide on a single night; last year, that number jumped to 192,875. In King County, Washington (which includes Seattle), about 3,372 people—more than half of the county's unsheltered population—are living in vehicles. And in Greater Los Angeles, which has the largest unsheltered homeless population in the country, more than 15,000 people live in cars, vans, and RVs.
The car has become "a new form of affordable housing," says Graham Pruss, a researcher and former outreach worker for Seattle's Road to Housing program, a city initiative that helped residents living in cars find more stable housing.
In the tight housing markets of West Coast cities, it's not just the destitute or the unemployed who see their cars as their best option. "I have met people who are working at Amazon and rent an RV to live on the streets of Seattle while they're saving enough to get into their own place," Pruss said.
After years of crackdowns, cities from Santa Barbara, California, to Kirkland, Washington, are trying a new strategy: safe parking programs.
San Diego's program, run by the nonprofit Dreams for Change, has three lots with 150 spaces. The program has 325 residents—more than two people share a car, in some cases—ranging from families to retirees to tech workers making nearly $100,000 a year. And they sleep in models ranging from a Honda Civic to a Lexus. "Most of the time you walk through the parking lot, you wouldn't know that they are a parking lot full of individuals living in their cars," said Teresa Smith, CEO of Dreams for Change.
http://www.dreamsforchange.org/the-safe-parking-program/
Link to Article