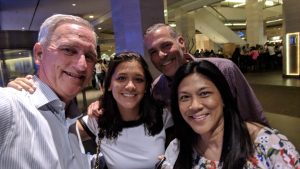 Selling homes in Manhattan is competitive, even without a central MLS run by the realtor board.  Once an agent uploads a listing onto their company system, it gets distributed immediately to the regular portals StreetEasy (owned by Zillow), realtor.com, etc. where agents and consumers access the same data.
So even though there isn't an official MLS, there is a commitment to full market exposure, and giving every agent a shot at selling each listing.
William (KK's new boss) said that if agents were keeping listings in-house, then the Manhattan board of realtors would step in and do something about it.
It's going to be competitive everywhere, but if every agent was committed to doing what was best for their sellers, then we could all get along nicely.
He also said that it is very rare that they do a home inspection.  There isn't a requirement for seller disclosures either – it's up to the buyer's attorney to include any questions about the property in the contract.
It has been a buyer's market around Manhattan for the last couple of years.  Maybe a sign of things to come everywhere?
Kayla will start her new job there on August 27th!  I will let her share her experience here as she sees fit, but she couldn't be more excited to begin this new chapter in her life!