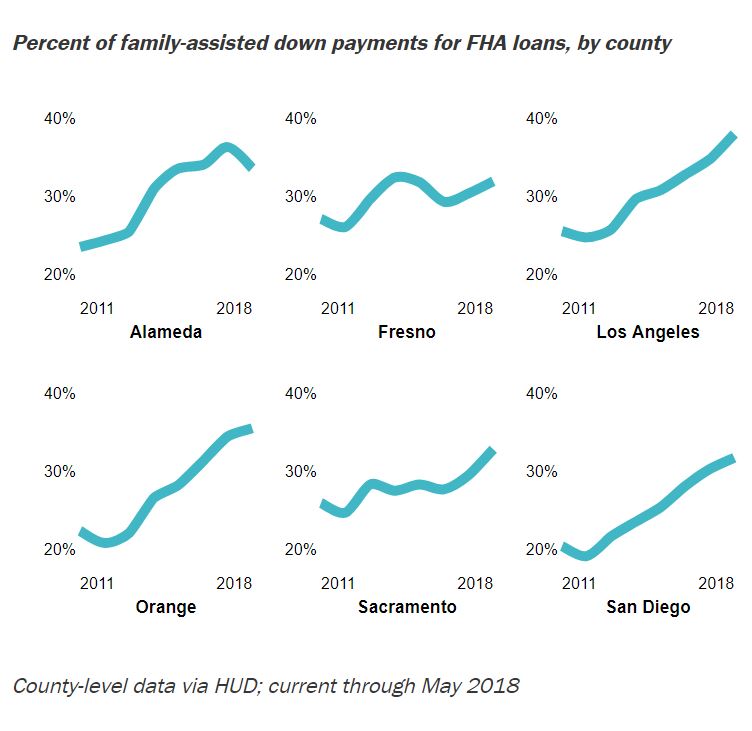 Nothing wrong with distributing the estate early to help out the kids, and mortgage guidelines encourage it – the down payment can be 100% gift:
When Melanie Gerber started working as a mortgage loan officer in Riverside seven years ago, she didn't see many first-time buyers hitting up their parents for help.
Now she sees it all the time.  "I have one that just went into escrow yesterday," Gerber said. "They're having money gifted from the family."
She estimates about half of her borrowers are now getting money from mom and dad.  "I think the parents just want them to make it on their own and know they can't do it," she said.
Gerber's observations are backed up by federal data. If you want to buy a home in California, it increasingly helps to have relatives who can chip in.
KPCC crunched the numbers on more than 600,000 FHA loans, a type of government-backed mortgage that's common with first-time buyers.
FHA borrowers can use money from relatives for their down payment. In recent years, that kind of family financial help has been on the rise in California.
Back in 2011, about one in four FHA loans in California included down payment money from relatives. Today, it's one in three.
Link to Full Article