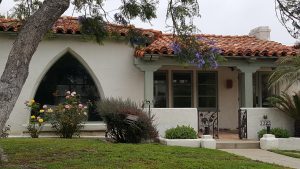 The pending count finally reversed course and gained 6% this week, after dropping for the last five weeks.  Just in time to be greeted by this ZH post on the three stages of a housing bubble – hat tip to Doug for sending in:
Stage One usually ends with price spikes in the hottest markets so extreme that they generate headlines. Like these:
Phase Two of a typical US housing bubble begins when sellers read these headlines and note that prices are now above what they could have gotten in the last bubble. With the memory of how badly they'd wished they'd sold at the peak, they realize that they've been given a second chance to cash out, move to a cheaper, less-frenetic place, and coast on their real estate riches. So they call a realtor and list their house. As do a bunch of their neighbors. Supply, out of the blue, jumps.
That may be what's happening now:
The most competitive, tightest housing market in decades may finally be loosening its grip, and that could put pressure on overheated home prices. The supply of homes for sale in the second quarter of 2018, the all-important spring market, rose at three times the rate of the same period in 2017, according to Trulia, a real estate listing and research company.
The inventory jump was the largest quarterly improvement in three years and could be signaling a slight thaw in today's housing market. But it is just a start.
"This seasonal inventory jump wasn't enough to offset the historical year-over-year downward trend that has continued over 14 consecutive quarters," according to Alexandra Lee, a housing data analyst for Trulia's economics research team.
The supply of homes for sale is still down 5.3 percent compared with a year ago. Still, all real estate is local, and some markets are seeing greater relief. Thirty of the nation's 100 largest cities, including New York City, Miami and Los Angeles, now have more supply than a year ago.
Of course, the increase is a double-edged sword. Supplies are increasing because sales are slowing, and sales are slowing because prices are so high. In New York City, the median household must spend 65 percent of its income to buy a home, according to Trulia. In Los Angeles, it takes 59 percent.
"Among these unaffordable metros, San Diego posted the largest inventory growth—22 percent year-over-year," wrote Lee. "Compare that with the same quarter last year, when that Southern California metro registered a 28 percent inventory decrease."
Mortgage applications to purchase a newly built home plummeted nearly 9 percent in June compared with June 2017, according to the Mortgage Bankers Association. This suggests lower new home sales going forward, despite higher price.
Stage Two's deluge of supply sets the table for US housing bubble Stage Three by soaking up the remaining demand and changing the tenor of the market. Deals get done at the asking price instead of way above, then at a little below, then a lot below. Instead of being snapped up the day they're listed, houses begin to languish on the market for weeks, then months. Would-be sellers, who have already mentally cashed their monster peak-bubble-price checks, start to panic. They cut their asking prices preemptively, trying to get ahead of the decline, which causes "comps" to plunge, forcing subsequent sellers to cut even further.
Sales volumes contract, mortgage bankers and realtors get laid off. Then the last year's (in retrospect) really crappy mortgages start defaulting, the mortgage-backed bonds that contain their paper plunge in price, et voila, we're back in 2008.
How far away is the climax of Stage Three? It's too soon to tell, with just one quarter of trend-reversal data on-hand. But if you're thinking of selling (or if you own a lot of bank stocks or are thinking of shorting such stocks), now might be a good time to start paying attention and taking the appropriate steps.
https://www.zerohedge.com/news/2018-07-16/us-housing-bubble-enters-stage-two-suddenly-motivated-sellers
The UNDER-$1,000,000 Market:
| | | | | |
| --- | --- | --- | --- | --- |
| Date | NSDCC Active Listings | Avg. LP/sf | Avg. DOM | # of Pendings |
| Jan 1 | 36 | $477/sf | 51 | 58 |
| Jan 8 | 35 | $479/sf | 42 | 56 |
| Jan 15 | 39 | $469/sf | 37 | 53 |
| Jan 22 | 37 | $453/sf | 42 | 62 |
| Jan 29 | 38 | $459/sf | 35 | 64 |
| Feb 5 | 41 | $463/sf | 26 | 69 |
| Feb 12 | 39 | $461/sf | 20 | 73 |
| Feb 19 | 42 | $456/sf | 20 | 72 |
| Feb 26 | 53 | $451/sf | 20 | 81 |
| Mar 5 | 47 | $457/sf | 24 | 79 |
| Mar 12 | 60 | $434/sf | 19 | 87 |
| Mar 19 | 67 | $478/sf | 21 | 81 |
| Mar 26 | 61 | $477/sf | 23 | 86 |
| Apr 2 | 50 | $464/sf | 24 | 95 |
| Apr 9 | 56 | $471/sf | 23 | 93 |
| Apr 16 | 61 | $464/sf | 24 | 93 |
| Apr 23 | 59 | $459/sf | 25 | 96 |
| Apr 30 | 61 | $466/sf | 27 | 95 |
| May 7 | 67 | $472/sf | 20 | 89 |
| May 14 | 66 | $480/sf | 21 | 95 |
| May 21 | 81 | $474/sf | 21 | 85 |
| May 28 | 83 | $438/sf | 24 | 91 |
| Jun 4 | 80 | $442/sf | 27 | 97 |
| Jun 11 | 81 | $427/sf | 27 | 91 |
| Jun 18 | 88 | $442/sf | 29 | 78 |
| Jun 25 | 93 | $442/sf | 31 | 77 |
| Jul 2 | 96 | $443/sf | 30 | 76 |
| Jul 9 | 98 | $447/sf | 33 | 65 |
| Jul 16 | 98 | $445/sf | 34 | 78 |
The $1,000,000 – $1,500,000 Market:
| | | | | |
| --- | --- | --- | --- | --- |
| Date | NSDCC Active Listings | Avg. LP/sf | Avg. DOM | # of Pendings |
| Jan 1 | 91 | $532/sf | 72 | 68 |
| Jan 8 | 99 | $551/sf | 64 | 64 |
| Jan 15 | 96 | $535/sf | 61 | 75 |
| Jan 22 | 107 | $515/sf | 63 | 82 |
| Jan 29 | 108 | $512/sf | 57 | 91 |
| Feb 5 | 110 | $518/sf | 49 | 100 |
| Feb 12 | 117 | $487/sf | 46 | 106 |
| Feb 19 | 107 | $500/sf | 45 | 114 |
| Feb 26 | 112 | $485/sf | 46 | 117 |
| Mar 5 | 111 | $496/sf | 45 | 115 |
| Mar 12 | 126 | $475/sf | 43 | 109 |
| Mar 19 | 125 | $487/sf | 47 | 129 |
| Mar 26 | 133 | $484/sf | 47 | 124 |
| Apr 2 | 139 | $495/sf | 47 | 121 |
| Apr 9 | 148 | $485/sf | 51 | 119 |
| Apr 16 | 145 | $474/sf | 45 | 114 |
| Apr 23 | 162 | $470/sf | 43 | 117 |
| Apr 30 | 162 | $486/sf | 42 | 121 |
| May 7 | 180 | $495/sf | 40 | 117 |
| May 14 | 182 | $491/sf | 41 | 127 |
| May 21 | 184 | $475/sf | 40 | 135 |
| May 28 | 188 | $473/sf | 40 | 139 |
| Jun 4 | 189 | $469/sf | 43 | 148 |
| Jun 11 | 199 | $469/sf | 45 | 142 |
| Jun 18 | 193 | $465/sf | 44 | 143 |
| Jun 25 | 211 | $476/sf | 39 | 141 |
| Jul 2 | 206 | $483/sf | 41 | 142 |
| Jul 9 | 201 | $483/sf | 45 | 146 |
| Jul 16 | 200 | $502/sf | 44 | 145 |
The $1,500,000 – $2,000,000 Market:
| | | | | |
| --- | --- | --- | --- | --- |
| Date | NSDCC Active Listings | Avg. LP/sf | Avg. DOM | # of Pendings |
| Jan 1 | 84 | $612/sf | 86 | 40 |
| Jan 8 | 98 | $612/sf | 73 | 42 |
| Jan 15 | 98 | $607/sf | 73 | 42 |
| Jan 22 | 111 | $589/sf | 63 | 42 |
| Jan 29 | 120 | $577/sf | 61 | 45 |
| Feb 5 | 114 | $586/sf | 56 | 51 |
| Feb 12 | 118 | $566/sf | 52 | 57 |
| Feb 19 | 121 | $596/sf | 53 | 64 |
| Feb 26 | 122 | $596/sf | 53 | 64 |
| Mar 5 | 125 | $593/sf | 56 | 70 |
| Mar 12 | 131 | $602/sf | 53 | 67 |
| Mar 19 | 120 | $598/sf | 58 | 74 |
| Mar 26 | 121 | $596/sf | 57 | 75 |
| Apr 2 | 128 | $593/sf | 55 | 70 |
| Apr 9 | 140 | $612/sf | 54 | 66 |
| Apr 16 | 146 | $617/sf | 50 | 67 |
| Apr 23 | 149 | $616/sf | 53 | 78 |
| Apr 30 | 152 | $605/sf | 60 | 81 |
| May 7 | 157 | $618/sf | 63 | 85 |
| May 14 | 158 | $614/sf | 63 | 87 |
| May 21 | 154 | $637/sf | 54 | 82 |
| May 28 | 146 | $633/sf | 58 | 80 |
| Jun 4 | 149 | $614/sf | 54 | 76 |
| Jun 11 | 158 | $615/sf | 50 | 83 |
| Jun 18 | 164 | $606/sf | 53 | 77 |
| Jun 25 | 160 | $606/sf | 56 | 73 |
| Jul 2 | 160 | $607/sf | 56 | 69 |
| Jul 9 | 160 | $590/sf | 63 | 65 |
| Jul 16 | 160 | $591/sf | 63 | 66 |
The $2,000,000+ Market:
| | | | | |
| --- | --- | --- | --- | --- |
| Date | NSDCC Active Listings | Avg. LP/sf | Avg. DOM | # of Pendings |
| Jan 1 | 341 | $1,021/sf | 127 | 56 |
| Jan 8 | 356 | $1,007/sf | 123 | 49 |
| Jan 15 | 370 | $991/sf | 115 | 48 |
| Jan 22 | 375 | $992/sf | 110 | 47 |
| Jan 29 | 384 | $1,005/sf | 109 | 56 |
| Feb 5 | 387 | $1,005/sf | 111 | 56 |
| Feb 12 | 379 | $1,004/sf | 107 | 63 |
| Feb 19 | 399 | $990/sf | 104 | 69 |
| Feb 26 | 400 | $990/sf | 101 | 75 |
| Mar 5 | 398 | $1,022/sf | 97 | 79 |
| Mar 12 | 406 | $1,017/sf | 99 | 89 |
| Mar 19 | 430 | $1,020/sf | 97 | 79 |
| Mar 26 | 455 | $0/sf | 92 | 71 |
| Apr 2 | 453 | $0/sf | 94 | 67 |
| Apr 9 | 462 | $0/sf | 94 | 66 |
| Apr 16 | 473 | $0/sf | 95 | 66 |
| Apr 23 | 482 | $0/sf | 95 | 70 |
| Apr 30 | 476 | $0/sf | 94 | 74 |
| May 7 | 486 | $0/sf | 92 | 72 |
| May 14 | 493 | $0/sf | 91 | 84 |
| May 21 | 510 | $0/sf | 92 | 79 |
| May 28 | 504 | $0/sf | 95 | 90 |
| Jun 4 | 488 | $0/sf | 94 | 102 |
| Jun 11 | 502 | $0/sf | 95 | 99 |
| Jun 18 | 524 | $0/sf | 93 | 91 |
| Jun 25 | 525 | $0/sf | 92 | 78 |
| Jul 2 | 516 | $0/sf | 94 | 78 |
| Jul 9 | 519 | $0/sf | 96 | 73 |
| Jul 16 | 521 | $0/sf | 98 | 80 |
Weekly NSDCC New Listings and New Pendings
Week

New Listings

New Pendings

Total Pendings

Jan 1, 2018

18

15

Jan 8

89

31

Jan 15

87

43

Jan 22

87

43

Jan 29

81

48

244

Feb 5

77

53

262

Feb 12

74

53

280

Feb 19

89

55

295

Feb 26

87

57

318

Mar 5

84

62

328

Mar 12

107

61

339

Mar 19

88

59

350

Mar 26

99

55

347

Apr 2

87

66

346

Apr 9

106

58

336

Apr 16

98

54

331

Apr 23

108

67

353

Apr 30

98

70

362

May 7

138

68

355

May 14

99

78

386

May 21

115

63

369

May 28

92

84

387

Jun 4

91

77

410

Jun 11

100

56

401

Jun 18

103

54

376

Jun 25

105

54

358

Jul 2

83

78

361

Jul 9

74

50

342

Jul 16

109

83

361