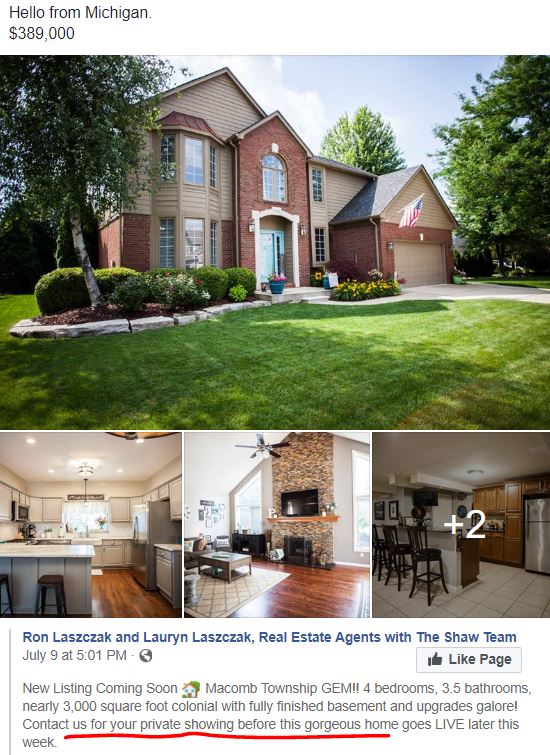 Nancy tagged this listing as another example of what you can get if you're willing to leave The Golden State.
It comes with the pitch we see a lot these days – 'Contact us for your private showing before this gorgeous home goes LIVE later this week'.
Thanks for showing.
Can I sell it this week?
The Coming Soons are probably tolerable, as long as the listing agent commits to the specific date they will sell it.  I think the seller is better served if the listing is exposed to the open market via the MLS, but if there is some reason not to do that, fine.
Let's specify when buyers can buy it!
It is the Big Tease to be showing a home without further instruction on when the seller will be entertaining offers up front – and I want to know before the showing too. It is a disservice to everyone for buyers to see a house, just to find out later that the listing agent is going to sit on offers for 5-10 days.
Another reason to be specific and clear is to help keep the listing agents from their own temptations, though most don't mind laying out the evidence of their own breaches right in the MLS.
There have been two examples this year already.
The listing agent said no showings until open house on Saturday.  But he had been showing it to his own buyers, and accepted his own offer on Friday night before the open house.  That's wrong, and his seller probably paid the price – there could have been other offers and a bidding war could have ensued.
The other example was the listing agent who publicly declared that he was entertaining offers on Monday, but then accepted an offer on the Saturday before. When I spoke with him, it was clear that it never occurred to him that there could be other offers if he just would have waited until Monday like he said he would.
Hopefully the industry will commit to conducting live auctions to sell houses some day, so we can eliminate all the hokey pokey.
P.S. Note to NAR. I'm tired of hearing how concerned you are about flood insurance.  Can you do something about the ethics please!