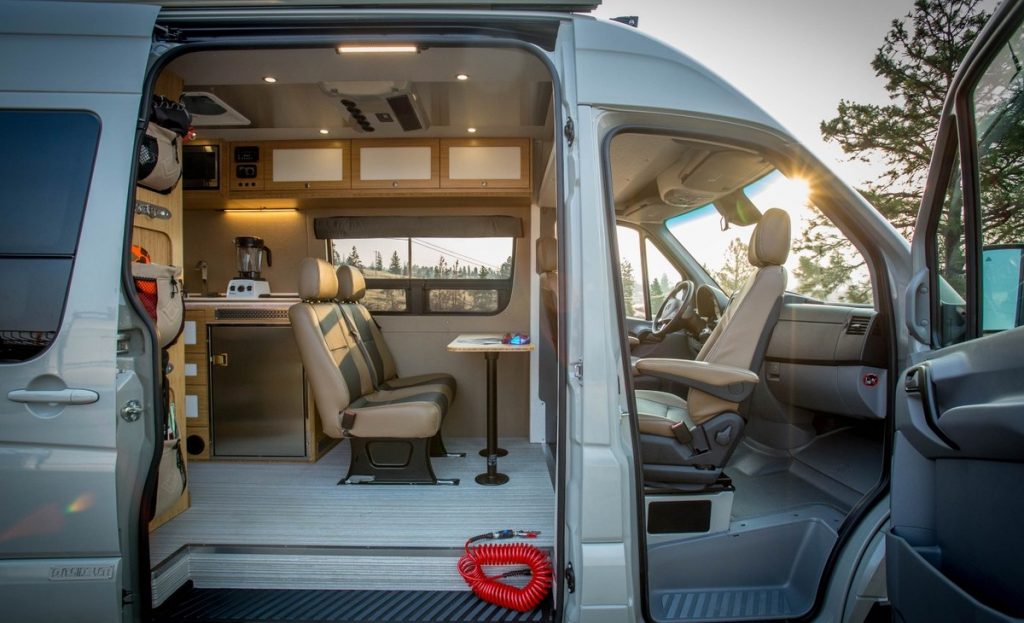 While we're discussing where to move, let's note that you don't have to buy another home – although I recommend it!  Here's an example:
Until six years ago, Melody Shapiro never imagined herself living out of a van.
She hasn't fallen on hard times, nor has she pivoted into a new career as an Instagram celebrity posing next to her Volkswagen Westfalia and posting selfies from national parks.
After retiring from her job as a psychotherapist in 2011, the idea of living on the road and off the grid began to sound like the dream life for the 73-year-old from Hood River. So she went online to figure out her options.
That's when she found Outside Van, a Portland-area company that turns Mercedes Sprinters from utilitarian cargo vans into mobile camping palaces.
For $140,000, Shapiro bought a customized Sprinter, equipped with four-wheel drive, solar panels and a queen-sized bed. She speaks excitedly of traveling across the country, unplugging from the outside world, and getting lost in the splendor of the Wallowas and the canyons of southern Utah.
"I like to travel to more remote areas," she says. "The way it's set up lets me pull into anywhere and live off the grid without power for four or five days. The high [ground] clearance lets me go just about anywhere. I love the freedom of that."
Now, Shapiro is living what social media aesthetes have dubbed "#vanlife."
Heshers and hippies have been turning vans into makeshift homes for decades, of course—some by choice, others out of necessity.
In recent years, though, the lifestyle has gone luxe. It has been called a full-fledged "movement" by The New Yorker, and inspired trend pieces everywhere from The Atlantic to ESPN.
Search the #vanlife hashtag on Instagram, and you'll find 3 million-plus photos of sun-soaked 20-somethings doing yoga or drinking coffee on the beach near their rolling domiciles. Some of them have even managed to monetize it, effectively becoming professional vandwellers.
But the newest influx of van enthusiasts doesn't fit either the new or old stereotype of van owners. A new hashtag, #sprintervanlife, has started to catch on, and browsing through, it's increasingly common to find photos of sexagenarians on mountain bikes and standup paddleboards.
Not long ago, someone with Shapiro's background would be living the RV life. But more and more, people her age are abandoning the traditional boomer retirement home, and opting to live more like their kids.
"I have friends who bought Roadtreks and smaller RVs—and they're all falling apart," Shapiro says. "They're putting more money into [keeping them] on the road than their actual house. I don't see the freedom in that."
Oregonians are old. The state's recently released June revenue forecast highlighted the state's looming retirement tsunami.
"The elderly population (65-plus) has picked up a faster pace of growth," wrote state economist Mark McMullen, "and will surge to record-high levels as the baby-boom generation continue to enter this age group."
Link to Full Article