The way to sell houses is turning into a jumbo bowl of jambalaya now, and this version toes the fiduciary-duty line by gathering investor offers, instead of making cash offers themselves.
Reprinted with permission from the author Mike: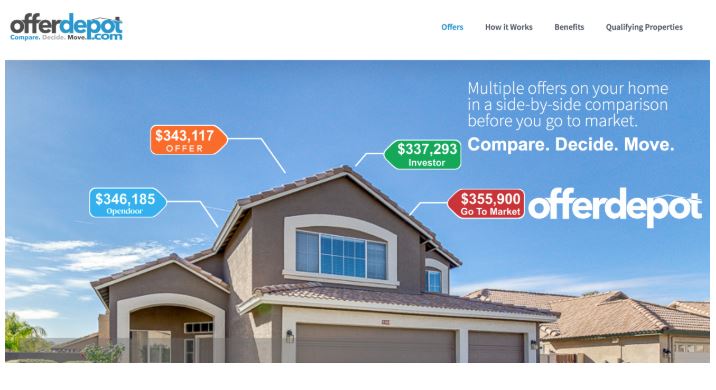 A Keller Williams team in Phoenix recently launched OfferDepot, an instant offer play, to "help with all the confusion with cash offers vs bringing your home to market."
Why it matters: This is the first move from a traditional real estate company into the instant offers space.
The idea that traditional real estate incumbents would enter into the iBuyer's instant offers party isn't new. Back in February, I wrote:
"…the more successful Opendoor becomes, the more of a threat they become to industry incumbents, which forces them to respond. The most logical response from a major player such as Realogy or Keller Williams would be to launch their own iBuyer program."
This isn't a top-down corporate initiative on the part of Keller Williams. Rather, this is a local team reacting to the rising interest in iBuyers and pushing to stay relevant.  The Keller Williams team isn't buying houses directly. It is collecting inbound leads from potential sellers, gathering information on the home, receiving instant offers on their behalf, and presenting everything back to the home owner (including an option to list the home on the open market) in a comparative analysis.
We can speculate as to the reasons this Keller Williams team decoded to jump in to the fray:
It doesn't want to miss the boat. Whether it's Opendoor raising another $325 million or Zillow jumping in with both feet, interest in the space has never been stronger. Traditional real estate agents — and Keller Williams  — are in the business of selling homes. Why would they let this new model pass them by? Doing nothing is not an option.
A one-stop-shop. It's relatively easy for traditional agents to bolt on an instant offer service, thereby turning them into a one-stop-shop for home sellers (and negating the need to contact an iBuyer like Opendoor or Offerpad).
Seller leads are super valuable. This is another form of lead generation for traditional agents, with each request representing a likely customer.
Implications for iBuyers
In my previous analysis, I summed up the major implications of incumbents entering the instant offer space. The first deals with the user experience:
"Make no mistake, the offer and the experience from the incumbent is going to be bad. They're simply not set up to provide the same quality of service as Opendoor."
The online experience isn't great. In a design reminiscent of the mid- to late-90's, users must struggle through a form to submit their home's information. It's a far cry from the premium experience Opendoor strives to offer its customers through the entire process.
But it works. It does what it needs to and collects leads. And it is this dilutive effect that is the biggest implication to dedicated iBuyers like Opendoor. As I wrote in that same analysis:
The proposition from the incumbents will be poor, but it will be enough to soak up a portion of the demand in the market and take momentum away from Opendoor and other iBuyers."
It's simple economics. If we assume the demand remains constant, the addition of supply will dilute the amount of business any one iBuyer receives.
There will also be more customer confusion as incumbents get into the game. When Opendoor was the only option in town, it was simple. But now there are a variety of choices: multiple dedicated iBuyers (Opendoor, Offerpad), a popular web portal (Zillow), a tech-enabled brokerage (Redfin Now), and a traditional real estate agent (OfferDepot). What's the difference? Who do I trust? It's difficult to explain the various propositions to consumers.
At the end of the day, that's good for traditional brokers and agents (as they can soak up additional demand), and bad for dedicated iBuyers (because of the dilutive effect and customer confusion).
This is just the start! Expect a lot more activity in this space by the incumbents. It's only a matter of time before a big incumbent launches a well-funded, well-designed initiative. And it may not stop at just presenting offers on an iBuyer's behalf…
Link to Article