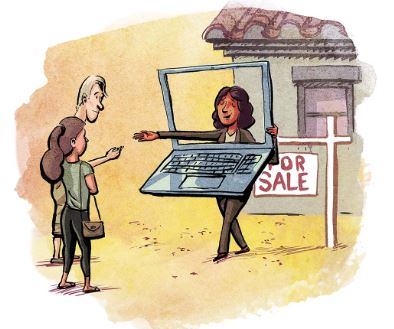 Flipping homes for no profit, just to make money the fees?  And VC money jumping at the chance to back him, in hopes of making billions before the market turns?  Could they provide enough market support to avoid a downturn?
Eric Wu is a house flipper, but unlike other real estate investors, he says he isn't trying to land a profit by selling for more than he paid.
The windfall, he said, will come from transaction fees.
Opendoor wants to come out even on its deals.  "We try to have the average be exactly zero," Wu said in an interview last week at Planet Hollywood Resort while attending a National Association of Real Estate Editors conference.
He said the goal isn't to buy and sell quickly, although Opendoor does just that. And, as he indicated, the price spread on its transactions can be thin.
Opendoor bought a two-story house in North Las Vegas in February for $263,000, property records show, and sold it three months later for just $3,000 more.
The key to making money, he said, is lowering transaction costs.
Opendoor's fee for sellers is reportedly 1 to 1.5 percent above a typical real estate agent's. According to Wu, its fee currently mirrors its transaction costs — "We don't make a profit today on customers," he said — but he eventually wants to slash his expenses while maintaining the fee.
"That becomes our profit," he said.
The company is under contract to buy more than 100 homes in Las Vegas and has 60 on the market to sell, according to spokeswoman Cristin Culver. Nationwide each month, it buys around 1,300 to 1,400 homes and sells almost 1,000, Wu said.
He said the company has raised $645 million in equity investments and another $1.5 billion in debt.
Link to Full Article