Tips for a Great Kitchen
The kitchen is one of the most important rooms of the house, if not THE most important. This is the area where you put together your children's lunches, cook the Thanksgiving turkey, or prep for your Saturday night dinner party with all your closest friends.
With that being said, a kitchen needs all the bells and whistles! You could spend a couple thousand on a kitchen, or you could end up spending $50,000+! Below are a few tips to help improve the kitchen you already have without having to go through your entire savings account!
Here are more if you want the whole article:
https://www.houzz.com/ideabooks/85692458
Outlets
1. Color-coordinate the outlets – Using a white outlet distracts the eye from the beautiful backsplash you spent LOTS of money on! You can avoid this issue by coordinate the wall plate and/or outlet with the color of the backsplash.
2. Hide your outlets with the appliance – Do we really need to see the chord dangling across the counter to plug in your toaster? Just move the darn toaster!
3. Sideways outlets – If you decide not to color-coordinate the outlets, turn them sideways so they will be less noticeable.
4. Charging station – Everyone has to charge their smart phone and iPad! Create a drawer right underneath the countertop, and make sure it has multiple outlets to keep the smart devices out of sight.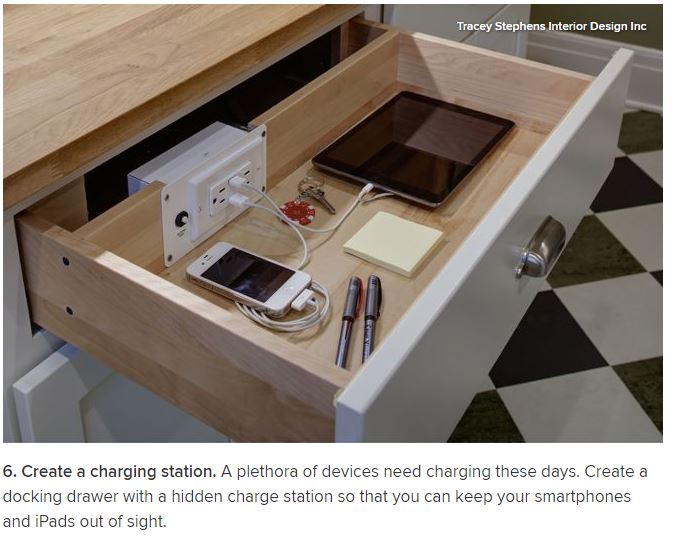 Lighting
1. Under-cabinet lighting – The main purpose of this is to show off your clean and stunning countertops! Make sure to install the light towards the front rather than towards the back. When it's in the back, it shows off your backsplash – which isn't a bad thing! But it then provides no light for your countertops – which is where you will be preparing your food!
2. Cabinet lighting – Typically you would install the light at the top of your cabinets but things have changed. You can now install your cabinet lighting on both sides of the cabinet to give it that "glowing" effect. This is great if you are incredibly organized. If you tend to throw stuff in your cabinets, maybe stay away from this idea.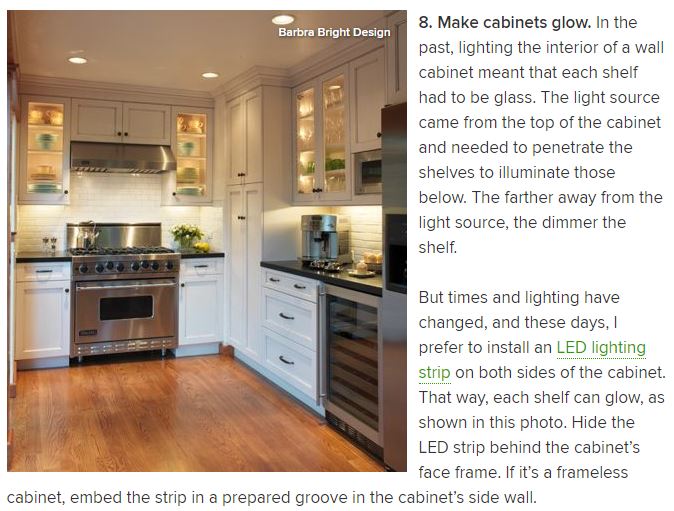 Avoid Irritating Situations
1. Maximize space on an island – A lot of people think it would be great to have the sink in the middle of the island. Depending how long your island is, it can make the area around the sink very limiting. Try to put it at one end of the island to maximize your prep space.
2. Lid storage – I hate having to organize lids for pots and/or Tupperware. A good idea would be to create a divider in the drawer so you have your lids and your containers separated yet in the same place.
Happy Tuesday everyone!
– KK