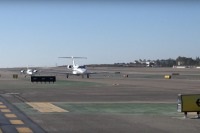 The City of Carlsbad will hold a public meeting to discuss how city officials and the community can work together to influence the future of McClellan-Palomar Airport, which is owned and operated by the County of San Diego and largely under the jurisdiction of the Federal Aviation Administration.
McLellan-Palomar Airport Meeting
Tuesday, June 19
6 to 9 p.m.
City of Carlsbad
Faraday Administration Center
1635 Faraday Ave.
After receiving input during the county's recent public review process for its draft airport master plan, the City Council directed staff at its April 10 meeting to:
Enter into discussions with the County of San Diego over future airport operations and facilities.
Initiate a stakeholder dialogue to identify and understand community concerns and priorities about airport operations and facilities.
Develop and implement an action plan to guide the city's approach related to the airport in the future.
The master plan is a blueprint for future development of the airport, which includes adding safety features at the west end of the runway, extending the runway to the east of the property and reconfiguring the tarmac and taxiway areas for better operational efficiency.
More on City Website