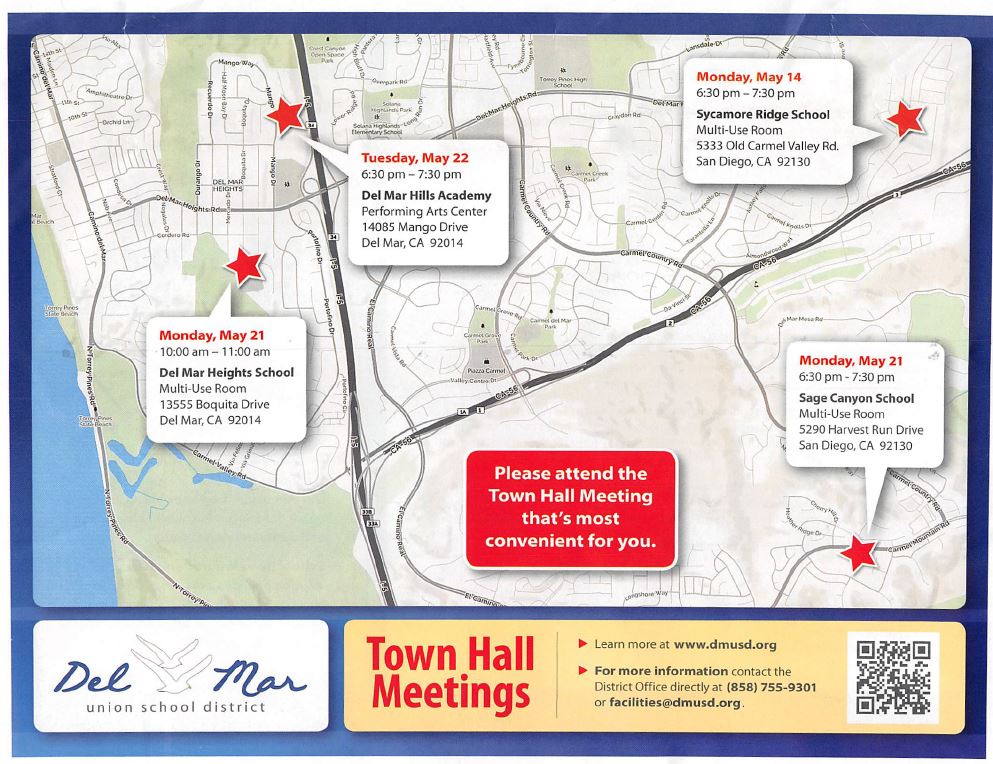 It's that time again – more school bonds! In an area like Carmel Valley where there is already Mello-Roos bonds on the books, it feels like doubling up – you may want to get involved!
A recent survey showed that voter sentiments have not changed significantly on a potential Del Mar Union School District (DMUSD) bond in November 2018 to address facilities needs.
At the school board's Feb. 28 meeting Adam Sonenshein, vice president of FM3 Research and Associates, reported that support for a bond is right at the 55 percent necessary to pass, 10 points below where the measure tested in 2016.
http://www.delmartimes.net/news/sd-cm-nc-dmusdbond-20180307-story.html
The Carlsbad Unified School District – which is still paying for the last bond issue of $198 million through 2035 – is considering more bonds too:
Carlsbad Unified School District (CUSD) has provided an extraordinary education in an inspiring environment to students in our community since 1958. Our world-class elementary, middle and high schools improve our quality of life and protect the value of our homes.
We are proud of the education that our district provides, but some of our schools were built more than 50 years ago and don't have the modern classrooms, science labs or instructional technology that local students need. Our older schools need upgrades to meet the same academic and safety standards as newer schools.
In order to succeed in college and careers, local students need to be skilled in the use of today's technologies and have a solid background in science, math, engineering and technology. Local schools need to be updated to ensure that school buildings, science labs, technology and facilities can continue to support high achievement.
State funding for school improvements is limited. In order to maintain high-quality education in local schools, the CUSD Board of Trustees is considering placing a bond measure on an upcoming ballot to generate up to $328 million for facility repairs and updates.
https://www.carlsbadusd.k12.ca.us/FMP
Stay involved!