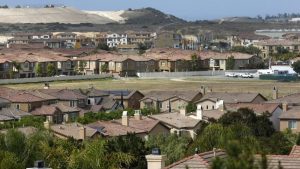 The local NSA Case-Shiller set a new record this week too. From the U-T:
The San Diego County median home price soared to its highest point ever, $550,000, in March, said real estate tracker CoreLogic. Home prices increased 6.8 percent in a year, which experts attribute to a lack of homes for sale and a strong economy. The previous home peak was $545,000 in June. So that has led us to ask our panel of experts the following question this week.
Question: Are we approaching housing bubble territory?
Phil Blair, Manpower
NO: As high as our housing prices are now they seem reasonable when compared to the Silicon Valley and Seattle markets. San Diegans are struggling to get into the housing market but those in it are riding the prices up and the for-sale inventory continues to stay very low, meaning houses are selling at these current prices.
Kelly Cunningham, San Diego Institute for Economic Research
YES: Approaching bubble territory, but not yet reaching peak of price. The current median price of homes sold is "only" 6.7 times San Diego's median household income. This is the same ratio reached in 2004, 1½ years before the ratio peaked at 8 times San Diego's median household income at end of 2005. The primary reason prices are rising is demand for San Diego housing still far exceeds supply at the same time home construction lags.
David Ely, San Diego State University
NO: Rising interest rates will slow the pace of home price appreciation. However, conditions do not seem favorable for a collapse in home prices in the near term. Relative to the housing needs of the area, the supply of housing has been growing slowly. And, mortgage lending practices are not as relaxed as they were a decade ago so a fall in home prices is less likely to arise from an increase in foreclosures.
Gina Champion-Cain, American National Investments
NO: Even as interest rates increase, demand remains high and public policy designed to prevent creation of housing stock will ensure inadequate supply. These conditions will breed appreciation but not a bubble. Bubbles require rampant speculation fueled by irresponsible lending, neither of these conditions are present. The absence of "stated income" loans has shifted the under qualified consumer to rental living which removes those previously vulnerable mortgages from the market further reducing bubble risk.
Alan Gin, University of San Diego
NO: Housing prices are high and that is causing an affordability problem. But the increase is the result of economic fundamentals, not speculation. The local economy, particularly the labor market, is strong, which is increasing the demand for housing. The supply is much lower than in the last bubble, with residential units authorized by building permits at only about 10,000 a year, compared to 15,000+ in the mid-2000s. The only worry is a rise in interest rates, which would dampen demand.
James Hamilton, UC San Diego
NO: While San Diego house prices are back to the peak in 2006, the median income in San Diego today is 27 percent higher. In terms of the ratio of house prices to income, we're back to 2002 values. Higher incomes and lower interest rates help keep homes affordable, and I don't see the speculative component that we had in 2006. But higher interest rates and changes in tax law could bring home prices down.
Gary London, London Group of Realty Advisors
NO: The housing market may be peaking again after 10 years of buildup, but it is not bubbling. In fact, lender requirements are very stringent, eliminating the prior crash causation factors. It is housing scarcity that is causing the price increases: We are building at the rate of less than one-half the housing units required in the region, creating a shortage that is expected to reach 170,000 units by 2030. Add to that the reluctance of sellers to sell, resulting in very low listing levels, and the millennial demand for the almost extinct single-family home, and you have a perpetual shortage and bid up of pricing.
Norm Miller, University of San Diego
NO: While we are certainly unaffordable for many households that does not equate to a bubble, which by definition will collapse. Naïve analysts look only at price/income ratios, but we learned last cycle that the key to the collapse was the use of others people's money via high loan-to-value (LTV) mortgages and a large percentage with second mortgages underwritten with loose standards. Currently, there is enough equity to suggest no pending collapse of the market. If significant subprime lenders enter the market again or we loosen up standards or interest rates jump 100 basis points, then that will put us in bubble land.
Jamie Moraga, IntelliSolutions
NO: Currently the demand is strong for homes in San Diego and our supply is low. Most homes don't even stay on the market for a few days before they are in escrow. Prices are driven by both economic and income growth in addition to the ease of mortgage loans. Should we see an economic downturn and unemployment and interest rates start to rise, then that's usually when we would see more delinquencies, foreclosures, and homebuyers deciding to hold off on making a home purchase.
Austin Neudecker, Rev
YES:. I am no real estate expert, but any market at a peak gives me pause for consideration. I would guess that low-interest rates are a contributing factor, and as the rates increase, prices may see an impact. Also, with recent layoffs (e.g. Qualcomm), San Diego needs to attract/build more companies with high-paid workers, yet we are still at historically low (official) unemployment (which is increasingly misleading as a metric).
Bob Rauch, R.A. Rauch & Associates
NO: A housing bubble is when housing prices, fueled by demand (any home buyer would be increasing demand by one house), speculation, and market exuberance, "run up." At that time, speculators enter the market and increase demand for housing. If we believe that demand will decrease or stagnate, or if lots of new housing supply is built, then there could be a sharp drop in prices.
Lynn Reaser, Point Loma Nazarene University
NO: San Diego home prices are only now finally recovering to the prior highs reached a dozen years ago in early 2006. Demand is strong, powered by expanding jobs, incomes, and wealth. New supply has been inadequate, constrained by regulatory costs and other factors despite some positive steps by policymakers. As a result, San Diego has seen a net out-migration to other parts of the country of about 15,000 residents and home prices continue to climb.
John Sarkisian, Motion Ventures
NO: There is a shortage of housing that will continue to drive the cost of housing higher in the near future. Unlike the last cycle, housing prices are being driven by fundamental economics and not by creative financing products. It has been 10 years and prices are not significantly higher than before the last correction.
Chris Van Gorder, Scripps Health
NO: Bubbles are a function of speculation and reckless lending practices and I see no evidence of either in the current housing market. It is the lack of supply that has driven home prices higher, due primarily to the scarcity of land and a burdensome regulatory environment. These are issues that will not be resolved in the near term. That said, the impact of the recent tax reform bill and rising mortgage rates will likely slow the rate home price increases.
Link to U-T Article