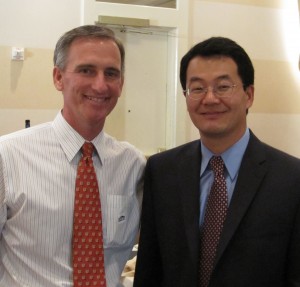 Yesterday I sent a note to the C.E.O. of the National Association of Realtors to counter the idea that home values will be going down 8% to 12% this year.  I've been asking for two months – show us your math.
Here it is – see link below.  They commissioned a study by Price Waterhouse, who used their microsimulation model to determine that demand will drop so severely that home values would tank by 8% to 12%.  The study is dated May, 2017, so it's not based on the final tax reform legislation – they used samples of what they thought it could be.
Here they note that the mortgage-interest deduction would drop by almost $800 billion when the law that was passed had NO IMPACT on the ability of existing homeowners to deduct the same mortgage-interest as they've been deducting all along.
They also drop the Property Tax Deduction to zero – which is wrong too.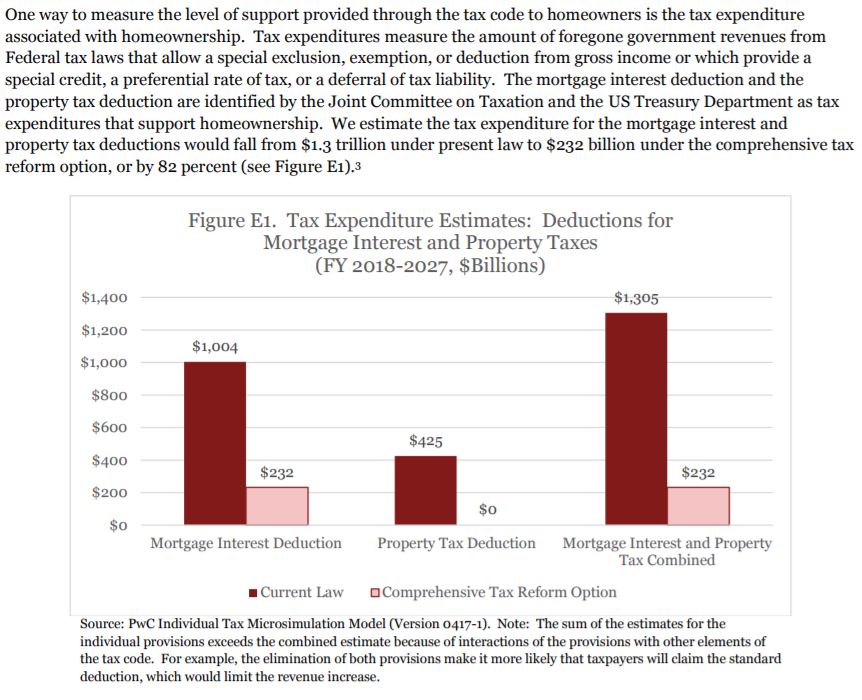 So Lawrence and the N.A.R. are publicizing the negativity based on an old report from six to twelve months ago that used faulty assumptions.
Great.
The data point I included in my email was the bidding war in Carmel Valley  this week on a tract-house listed for $1.2 million that garnered 16 offers. Apparently, the tax reform didn't impact those buyers the way the microsimulation model expected.
Here's the email from Lawrence:
Hello Mr. Klinge,
Our CEO shared your note with me, as it mentions my name.
Thanks for sending us the market info on the ground from San Diego. We always appreciate member feedback. We have also heard similar condition of multiple bidding and the lack of inventory in CA coastal cities and in many parts of the country. I will use your comments in my presentations about variations in the country: with upper-end market needing to cut prices in CT and IL and still multiple bidding in San Diego.
We regularly conduct a survey of Realtors® for that exact reason of gauging what is happening on the ground. The latest monthly Realtor® feedback, which we call the Realtor® Confidence Index, is attached. Getting a feel for the market from these 3,000 Realtors® greatly helps me and my staff.  I am asking my staff to contact you subsequently to be part of this survey. There is an open-ended question at the end where we delve into issue not mentioned in the questionnaire and comments like yours will be helpful for us to understand what is happening on the ground and to identify "turning points" in the market.
https://www.nar.realtor/research-and-statistics/research-reports/realtors-confidence-index
I'm very glad to hear that the tax deductions limit on mortgage interest and property tax appear not to be impacting your market. The strong job market in San Diego is no doubt helping boost home buying confidence. That is not what we are hearing in other markets, however. Here's a couple news interview of academics. I am attaching a link of Dr. Robert Shiller's interview with CNBC at a recent NAR event, when he gave talk about the market condition. He, unlike most other economists, does not believe that consumers are always rational. In fact, people are more irrational then rational, in his view. Always interesting to hear his perspective and it's here:
https://www.cnbc.com/2017/12/06/robert-shiller-tax-bills-mortgage-interest-deduction-cut-wont-affect-home-prices.html
Most economists would be like Mark Zandi, believing consumers are mostly rational in their behavior, and has called for negative home price impact from limit real estate tax preferences. Here's Dr. Zandi's interview with CBS
https://www.cbsnews.com/news/gop-tax-bill-wont-help-housing-prices/
Our projection is based on Price Waterhouse Cooper research report, which we commissioned. Here below:
http://narfocus.com/billdatabase/clientfiles/172/21/2888.pdf
After taking into account of current market momentum, the job market, local housing starts, interest rate forecast, we have CA home prices rising by only 1% in 2018. It would be presumptuous to imply this NAR forecast will be the reality for 2018. Indeed, CA may experience for the remainder of the year what you are seeing currently. Given that many members have asked for our views for outlook in 2018, and the below forecast is our attempt at that.
https://www.nar.realtor/research-and-statistics/tax-reform-impact-and-home-price-outlook
One big issue we have been working on is to boost inventory and housing supply. As such we have been working with University of California Berkeley … to boost housing supply and homeownership in a sustainable way. Here's the paper and my presentation at the University is attached.
https://escholarship.org/uc/item/40p726v2
Based on Realtor® feedbacks, we know how critical it is to have more inventory. Therefore, my presentations have focused on this issue. I am attaching 2 powerpoint presentations that talks to the great undersupply in CA.
Housing Conference at University of California at Berkeley
Homeownership Conference at HUD, with Dr. Ben Carson presiding.
For day-to-day update on the ever changing market conditions, follow us on social media, along with other 100,000 + fellow realtors®. I am sure you will not agree on all things shown, but it is my hope, some of the info can be used in your business.
https://twitter.com/NAR_Research
Finally, if not already, please consider becoming a major RPAC donor. Many very successful Realtors® like to give their time back to the organization by volunteering and by investing in RPAC to help protect private property rights.
Best regards,
Lawrence
Lawrence Yun, Ph.D.
Chief Economist
National Association of REALTORS
Washington, DC 20001