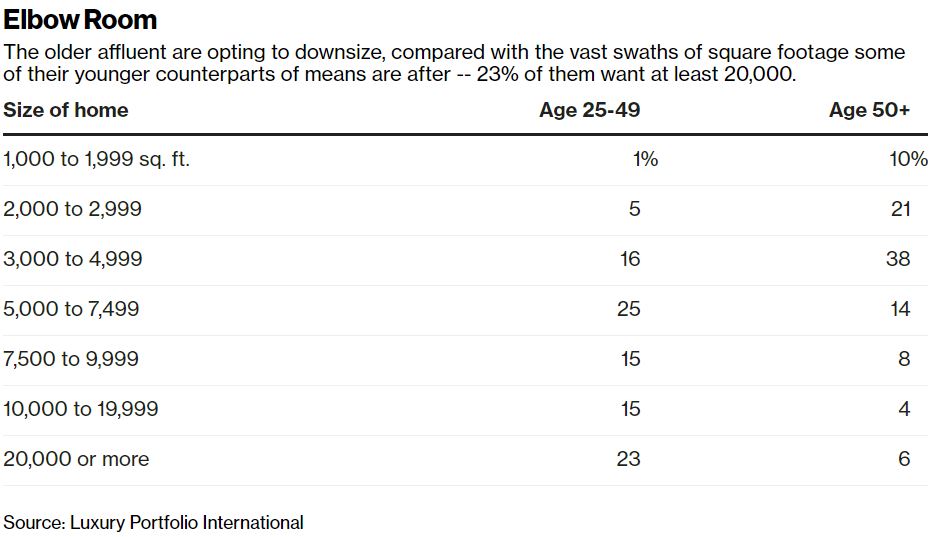 It's easy to spoil them….and nearly impossible to un-spoil them!
Hat tip to daytrip for sending this in:
A new generation of affluent homebuyers powered by a surge in inherited wealth is driving the luxury-home market, demanding larger spaces and fancier finishes, according to a report heralding "the rise of the new aristocracy."
Prospective homebuyers under 50 account for most of those shopping for homes priced at $1 million or more, according to the report. Nearly a quarter of high-net-worth consumers between 25 and 49 said they would look for at least 20,000 square feet when they made their next home purchase; it was just 6 percent for respondents 50 or older. The report is based on a survey of more than 500 consumers with at least $1 million in investable assets, conducted last month on behalf of Luxury Portfolio International, a network of real estate brokerages.
Other home features deemed "essential" by a large share of these new aristocrats include hot tubs, at 45 percent; commercial-grade kitchen appliances, at 52 percent; and multiple-view security cameras, at 54 percent. Proximity to good restaurants was the most important community amenity in the survey results — followed by proximity to family.
Three of five respondents under 50 said they expect to inherit at least $1 million, with an average inheritance of $3.8 million. Thanks to a tax provision passed under George W. Bush, a lot of that wealth is available sooner to today's heirs. More than 171,000 families gave gifts of at least $1 million between 2011 and 2014, according to the report, a giant leap from about 7,600 families who made $1 million gifts between 2007 and 2010. Another boost will come from the new tax law, which cuts taxes on the rich, and a booming stock market that is translating into demand for luxury homes.
Link to article