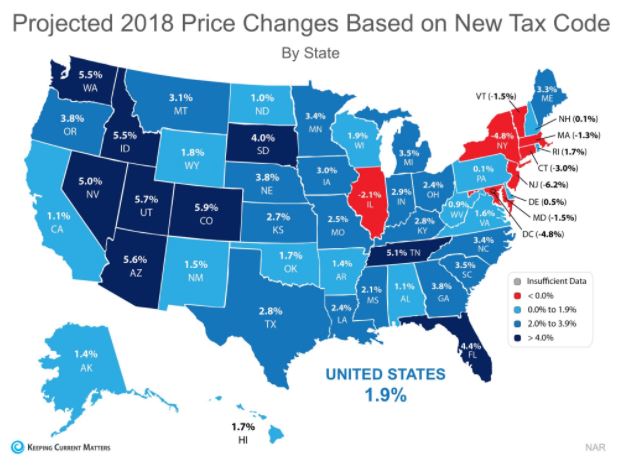 The National Association of Realtors has re-thought their negativity barrage on the tax reform, and is back in cheerleader mode:
While the new tax law is already in effect, here we estimate how home prices will trend in 2018 for each state. The new tax law reduces the limit on deductible mortgage debt and limits the deductibility of the real estate tax up to $10,000. These two provisions are expected to have an impact on the housing market. Moreover, a higher standard deduction may lessen the incentive to purchase a home, as fewer consumers will utilize mortgage interest and property tax deductions.
Aside from the tax reform impact, it is of utmost importance to understand that the current state of the housing market will also influence home prices. Prices are shaped by supply and demand, like any other economic asset. A shortage of supply pushes up prices, while excess supply causes prices to fall. In the past five years, housing inventory has fallen across the country and as a result, home prices continue to rise.
Link to Article
~~~~~~~~~~~~~~~~~~~~~~~~~~~~~~~~~~~~~~~~~~~~~~~~~~~~~~~
They have broken down their data for each state too.
Here is what they say about California: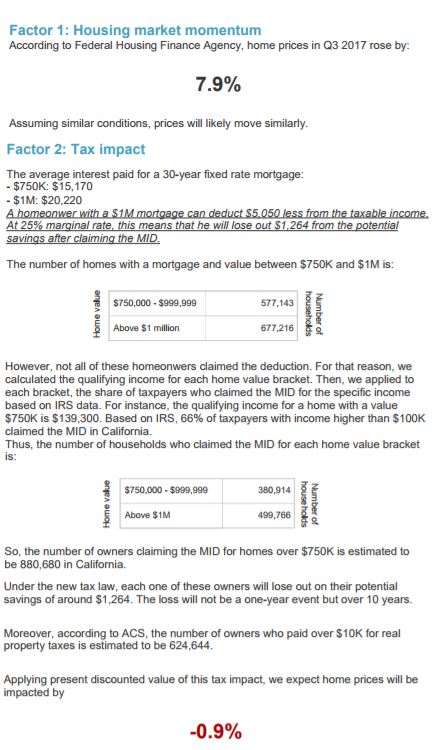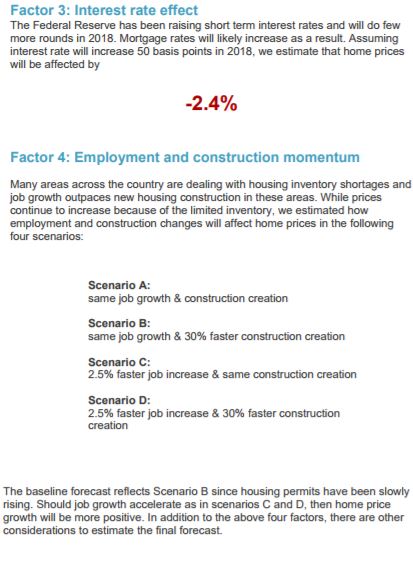 In spite of California prices going up 7.9% in the third quarter of 2017, they project a 1.1% increase for 2018 – which is quite a drop-off.
How is their math?  Let's check:
Factor 2 – Tax impact
The average interest paid for a 30-year fixed-rate mortgage:
$750K: $15,170
$1M: $20,220
What?  Just a quick look at those numbers and you can sense a mistake.  Interest on a $750,000 loan has to be more than $1,200 per month.  Thanks to Google, there are several mortgage amortization calculators online, and within 30 seconds I found this: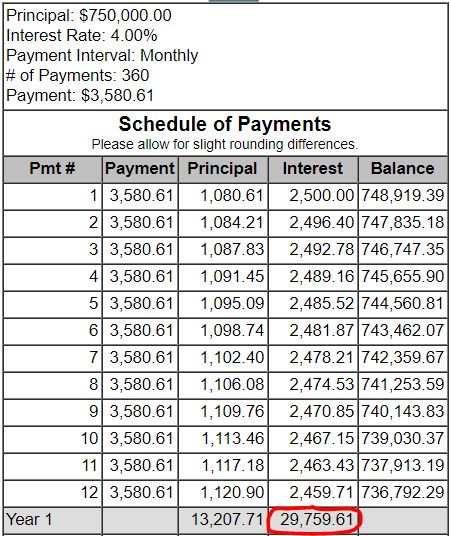 Even the full interest paid over the life of the loan divided by 30 is more than $15,170 (it's $17,967 per yr).  Then they calculate the impact on existing homeowners, BUT THERE IS NO M.I.D. CHANGE FOR THEM. The new limit of $750,000 is for new home buyers, not existing.
The N.A.R. is publishing articles nationwide, and nobody checks these? If they can't get their facts right, how reliable is anything they say?
Like my high school baseball coach used to say,
"Don't believe anything you hear, and only half of what you see!"