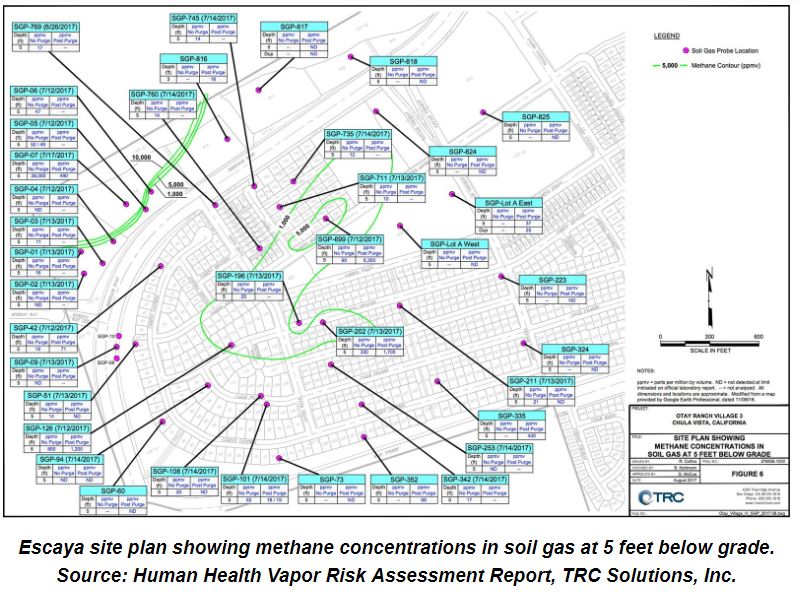 Hat tip to Richard for sending this in:
Methane and volatile chemicals such as benzene have been discovered underground at a yet-to-be completed Otay Ranch project that is marketed as one of the largest planned housing developments in the U.S.
Homebuyers in the Chula Vista community known as Village of Escaya can't move into their homes because government officials have stopped installation of water meters.
inewsource is the first to report on the discovery, though contractors first noticed the potential problem in April. Water sampling began the following month and the San Diego County Department of Environmental Health was alerted in June.
"The district is doing its due diligence to make sure that they're evaluating the situation," Otay Water District spokeswoman Tenille Otero said Friday.
The Otay Water District provides water and wastewater service to nearly a quarter-million customers in San Diego County. It typically takes responsibility for a developer's work, including pipes and facilities, once a project is completed. In this case, the district is refusing to install water meters within the 450-acre development until the problems with the methane and other chemicals are resolved.
Other agencies involved include the Chula Vista Development Services Department and Chula Vista Elementary School District, as well as several private companies.
The land's developer, Carlsbad-based HomeFed Corp., is marketing nearly 1,000 homes in an area adjacent to the Otay Landfill, auto-salvage yards and the country's largest producer of construction aggregates. According to HomeFed's most recent quarterly report, 165 homes were under contract to close within Escaya as of Oct. 24.
HomeFed's president and chief executive officer, Paul Borden, told inewsource on Friday the discovery of methane and other volatile compounds is not unusual in California.
"It's going to be dealt with absolutely the way it should be dealt with," Borden said, adding that HomeFed is working out mitigation measures with the water district. The matter will be resolved "very soon," he said.
Borden said homebuyers also have been alerted to the issue.
"Among the many many things that are disclosed, this is definitely one of them," he said.
Read full article here: