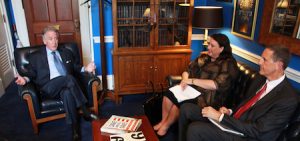 Real estate spokespeople from N.A.R., C.A.R., Zillow, etc. keep saying that if tax reform removes the incentives for homeownership, prices would fall at least 10%.  Then the Senate leaves the mortgage-interest deduction untouched, and adds back in the property-tax deduction for most – and our N.A.R. president is still claiming prices will go down?
Now she's talking about the national debt and grandchildren.  It appears that she has gone from fighting for tax incentives for homeownership to fighting for the everyman – that's not your job!  Do that on your own time.
Send our lobbyists back up to the Hill with donuts and payola and have them convince the House to agree with the Senate – quick!  And stop saying prices will go down 10% or more – you have no hard evidence of that!!!!
WASHINGTON (December 2, 2017) – The U.S. Senate today passed tax reform legislation that the National Association of Realtors® believes puts home values at risk and dramatically undercuts the incentive to own a home.
NAR President Elizabeth Mendenhall, a sixth-generation Realtor® from Columbia, Missouri and CEO of RE/MAX Boone Realty, offered strong concerns over the bill and said Realtors® will continue to work with members of the House and Senate as the process moves forward into a conference committee.
"The tax incentives to own a home are baked into the overall value of homes in every state and territory across the country. When those incentives are nullified in the way this bill provides, our estimates show that home values stand to fall by an average of more than 10 percent, and even greater in high-cost areas.
"Realtors® support tax cuts when done in a fiscally responsible way; while there are some winners in this legislation, millions of middle-class homeowners would see very limited benefits, and many will even see a tax increase. In exchange for that, they'll also see much or all of their home equity evaporate as $1.5 trillion is added to the national debt and piled onto the backs of their children and grandchildren.
"That's a poor foot to put forward, but this isn't the end of the road. Realtors® will continue to advocate for homeownership and hope members of the House and Senate will listen to the concerns of America's 75 million homeowners as the tax reform discussion continues."
The National Association of Realtors®, "The Voice for Real Estate," is America's largest trade association, representing 1.3 million members involved in all aspects of the residential and commercial real estate industries.