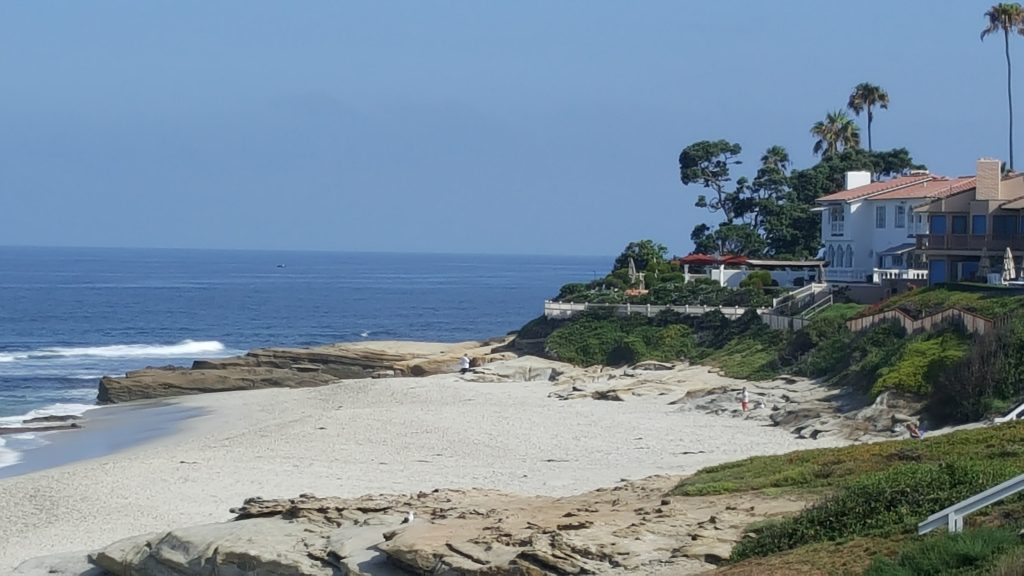 A quiet Thanksgiving week – I hope you had a great one!
We only had 23 new listings this week, but we had 37 new pendings!
In an interesting note in the Under-$800,000 category.
Three weeks ago we had 21 listings left, with an average days-on-market of 38 days.  Today we're down to just 16 listings priced under $800,000, but those are averaging 62 days on market – a 63% increase, in spite of the average list price-per-sf being down 10% in the same period!
The other three categories have a slightly higher market time too – buyers sense that they can be more selective this time of year.
The UNDER-$800,000 Market:
| | | | | |
| --- | --- | --- | --- | --- |
| Date | NSDCC Active Listings | Avg. LP/sf | DOM | Avg SF |
| Nov 7 | 41 | $402/sf | 35 | 1,960sf |
| Nov 14 | 37 | $405/sf | 33 | 1,903sf |
| Nov 21 | 32 | $403/sf | 35 | 1,913sf |
| Nov 28 | 31 | $411/sf | 37 | 1,851sf |
| Dec 5 | 42 | $420/sf | 41 | 1,868sf |
| Dec 12 | 35 | $417/sf | 32 | 1,877sf |
| Dec 19 | 30 | $412/sf | 39 | 1,887sf |
| Dec 26 | 29 | $430/sf | 39 | 1,850sf |
| Jan 2 | 26 | $415/sf | 42 | 1,926sf |
| Jan 9 | 33 | $425/sf | 30 | 1,872sf |
| Jan 16 | 31 | $429/sf | 32 | 1,815sf |
| Jan 23 | 24 | $470/sf | 36 | 1,802sf |
| Jan 30 | 25 | $469/sf | 36 | 1,775sf |
| Feb 6 | 34 | $478/sf | 24 | 1,685sf |
| Feb 13 | 33 | $467/sf | 22 | 1,765sf |
| Feb 20 | 38 | $455/sf | 29 | 1,791sf |
| Feb 27 | 29 | $479/sf | 33 | 1,673sf |
| Mar 6 | 32 | $458/sf | 22 | 1,777sf |
| Mar 13 | 26 | $470/sf | 28 | 1,772sf |
| Mar 20 | 19 | $462/sf | 32 | 1,807sf |
| Mar 27 | 21 | $438/sf | 24 | 1,837sf |
| Apr 3 | 26 | $433/sf | 21 | 1,790sf |
| Apr 10 | 28 | $423/sf | 28 | 1,823sf |
| Apr 17 | 35 | $418/sf | 28 | 1,809sf |
| Apr 24 | 29 | $423/sf | 33 | 1,789sf |
| May 1 | 29 | $433/sf | 35 | 1,759sf |
| May 8 | 29 | $422/sf | 37 | 1,855sf |
| May 15 | 26 | $409/sf | 36 | 1,922sf |
| May 22 | 32 | $427/sf | 31 | 1,825sf |
| May 29 | 35 | $448/sf | 27 | 1,791sf |
| Jun 5 | 27 | $451/sf | 35 | 1,748sf |
| Jun 12 | 31 | $441/sf | 31 | 1,752sf |
| Jun 19 | 23 | $444/sf | 34 | 1,739sf |
| Jun 26 | 21 | $431/sf | 37 | 1,802sf |
| Jul 3 | 21 | $442/sf | 41 | 1,719sf |
| Jul 10 | 27 | $456/sf | 37 | 1,685sf |
| Jul 17 | 25 | $435/sf | 37 | 1,825sf |
| Jul 24 | 28 | $441/sf | 32 | 1,829sf |
| Jul 31 | 20 | $422/sf | 49 | 1,830sf |
| Aug 7 | 34 | $421/sf | 37 | 1,875sf |
| Aug 14 | 35 | $421/sf | 40 | 1,806sf |
| Aug 21 | 39 | $428/sf | 39 | 1,804sf |
| Aug 28 | 38 | $423/sf | 35 | 1,815sf |
| Sept 4 | 34 | $412/sf | 32 | 1,869sf |
| Sept 11 | 26 | $418/sf | 42 | 1,862sf |
| Sept 18 | 29 | $442/sf | 33 | 1,750sf |
| Sept 25 | 28 | $441/sf | 33 | 1,749sf |
| Oct 2 | 24 | $427/sf | 40 | 1,786sf |
| Oct 9 | 22 | $416/sf | 45 | 1,843sf |
| Oct 16 | 21 | $425/sf | 47 | 1,807sf |
| Oct 23 | 17 | $443/sf | 41 | 1,713sf |
| Oct 30 | 19 | $459/sf | 40 | 1,637sf |
| Nov 6 | 21 | $453/sf | 38 | 1,663sf |
| Nov 13 | 23 | $431/sf | 41 | 1,791sf |
| Nov 20 | 20 | $405/sf | 53 | 1,897sf |
| Nov 27 | 16 | $407/sf | 62 | 1,874sf |
The $800,000 – $1,400,000 Market:
| | | | | |
| --- | --- | --- | --- | --- |
| Date | NSDCC Active Listings | Avg. LP/sf | DOM | Avg SF |
| Nov 7 | 226 | $432/sf | 51 | 2,880sf |
| Nov 14 | 225 | $439/sf | 52 | 2,868sf |
| Nov 21 | 219 | $445/sf | 54 | 2,857sf |
| Nov 28 | 207 | $439/sf | 59 | 2,879sf |
| Dec 5 | 216 | $433/sf | 64 | 2,933sf |
| Dec 12 | 200 | $443/sf | 59 | 2,880sf |
| Dec 19 | 184 | $452/sf | 61 | 2,843sf |
| Dec 26 | 169 | $452/sf | 67 | 2,866sf |
| Jan 2 | 153 | $464/sf | 66 | 2,802sf |
| Jan 9 | 157 | $457/sf | 61 | 2,781sf |
| Jan 16 | 158 | $452/sf | 58 | 2,783sf |
| Jan 23 | 153 | $463/sf | 59 | 2,745sf |
| Jan 30 | 149 | $458/sf | 56 | 2,812sf |
| Feb 6 | 151 | $468/sf | 52 | 2,730sf |
| Feb 13 | 160 | $457/sf | 49 | 2,776sf |
| Feb 20 | 147 | $453/sf | 52 | 2,849sf |
| Feb 27 | 138 | $461/sf | 54 | 2,792sf |
| Mar 6 | 148 | $470/sf | 51 | 2,803sf |
| Mar 13 | 163 | $471/sf | 46 | 2,731sf |
| Mar 20 | 166 | $472/sf | 44 | 2,734sf |
| Mar 27 | 163 | $460/sf | 44 | 2,775sf |
| Apr 3 | 174 | $465/sf | 37 | 2,739sf |
| Apr 10 | 168 | $470/sf | 37 | 2,690sf |
| Apr 17 | 165 | $467/sf | 40 | 2,726sf |
| Apr 24 | 169 | $463/sf | 39 | 2,727sf |
| May 1 | 175 | $462/sf | 38 | 2,784sf |
| May 8 | 168 | $483/sf | 42 | 2,758sf |
| May 15 | 177 | $474/sf | 42 | 2,782sf |
| May 22 | 186 | $465/sf | 38 | 2,873sf |
| May 29 | 202 | $517/sf | 37 | 2,787sf |
| Jun 5 | 220 | $519/sf | 35 | 2,788sf |
| Jun 12 | 213 | $518/sf | 40 | 2,817sf |
| Jun 19 | 205 | $527/sf | 43 | 2,832sf |
| Jun 26 | 219 | $530/sf | 42 | 2,772sf |
| Jul 3 | 227 | $531/sf | 43 | 2,771sf |
| Jul 10 | 215 | $542/sf | 46 | 2,734sf |
| Jul 17 | 222 | $533/sf | 46 | 2,747sf |
| Jul 24 | 219 | $530/sf | 49 | 2,785sf |
| Jul 31 | 216 | $518/sf | 52 | 2,800sf |
| Aug 7 | 213 | $510/sf | 49 | 2,795sf |
| Aug 14 | 212 | $522/sf | 47 | 2,735sf |
| Aug 21 | 200 | $516/sf | 46 | 2,740sf |
| Aug 28 | 210 | $511/sf | 43 | 2,703sf |
| Sept 4 | 195 | $524/sf | 42 | 2,685sf |
| Sept 11 | 202 | $474/sf | 43 | 2,715sf |
| Sept 18 | 183 | $473/sf | 43 | 2,712sf |
| Sept 25 | 179 | $476/sf | 43 | 2,682sf |
| Oct 2 | 171 | $489/sf | 44 | 2,655sf |
| Oct 9 | 161 | $495/sf | 43 | 2,633sf |
| Oct 16 | 160 | $493/sf | 43 | 2,636sf |
| Oct 23 | 161 | $497/sf | 44 | 2,621sf |
| Oct 30 | 160 | $498/sf | 46 | 2,610sf |
| Nov 6 | 142 | $501/sf | 50 | 2,654sf |
| Nov 13 | 153 | $501/sf | 49 | 2,650sf |
| Nov 20 | 141 | $485/sf | 49 | 2,630sf |
| Nov 27 | 127 | 501/sf | 54 | 2,601sf |
The $1,400,000 – $2,400,000 Market:
| | | | | |
| --- | --- | --- | --- | --- |
| Date | NSDCC Active Listings | Avg. LP/sf | DOM | Avg SF |
| Nov 7 | 245 | $587/sf | 82 | 3,646sf |
| Nov 14 | 246 | $583/sf | 82 | 3,639sf |
| Nov 21 | 241 | $585/sf | 80 | 3,649sf |
| Nov 28 | 235 | $595/sf | 86 | 3,587sf |
| Dec 5 | 235 | $583/sf | 88 | 3,631sf |
| Dec 12 | 221 | $588/sf | 91 | 3,616sf |
| Dec 19 | 204 | $583/sf | 89 | 3,667sf |
| Dec 26 | 191 | $583/sf | 94 | 3,681sf |
| Jan 2 | 171 | $587/sf | 93 | 3,647sf |
| Jan 9 | 175 | $590/sf | 90 | 3,651sf |
| Jan 16 | 184 | $585/sf | 84 | 3,671sf |
| Jan 23 | 196 | $596/sf | 80 | 3,657sf |
| Jan 30 | 203 | $601/sf | 79 | 3,639sf |
| Feb 6 | 209 | $625/sf | 76 | 3,555sf |
| Feb 13 | 217 | $642/sf | 76 | 3,500sf |
| Feb 20 | 221 | $634/sf | 73 | 3,504sf |
| Feb 27 | 217 | $636/sf | 73 | 3,468sf |
| Mar 6 | 228 | $636/sf | 69 | 3,445sf |
| Mar 13 | 229 | $637/sf | 69 | 3,442sf |
| Mar 20 | 232 | $615/sf | 65 | 3,485sf |
| Mar 27 | 233 | $613/sf | 65 | 3,497sf |
| Apr 3 | 234 | $614/sf | 64 | 3,505sf |
| Apr 10 | 235 | $621/sf | 65 | 3,466sf |
| Apr 17 | 242 | $618/sf | 67 | 3,462sf |
| Apr 24 | 263 | $604/sf | 65 | 3,497sf |
| May 1 | 265 | $600/sf | 67 | 3,486sf |
| May 8 | 250 | $615/sf | 65 | 3,449sf |
| May 15 | 241 | $617/sf | 66 | 3,448sf |
| May 22 | 259 | $618/sf | 63 | 3,476sf |
| May 29 | 265 | $627/sf | 69 | 3,465sf |
| Jun 5 | 268 | $605/sf | 64 | 3,515sf |
| Jun 12 | 278 | $611/sf | 65 | 3,504sf |
| Jun 19 | 276 | $607/sf | 69 | 3,535sf |
| Jun 26 | 278 | $607/sf | 70 | 3,535sf |
| Jul 3 | 275 | $620/sf | 71 | 3,505sf |
| Jul 10 | 277 | $619/sf | 73 | 3,497sf |
| Jul 17 | 272 | $622/sf | 69 | 3,509sf |
| Jul 24 | 271 | $620/sf | 72 | 3,539sf |
| Jul 31 | 267 | $621/sf | 69 | 3,498sf |
| Aug 7 | 259 | $620/sf | 69 | 3,515sf |
| Aug 14 | 251 | $617/sf | 70 | 3,509sf |
| Aug 21 | 246 | $621/sf | 70 | 3,514sf |
| Aug 28 | 244 | $633/sf | 71 | 3,524sf |
| Sept 4 | 231 | $597/sf | 68 | 3,646sf |
| Sept 11 | 236 | $610/sf | 65 | 3,572sf |
| Sept 18 | 241 | $610/sf | 64 | 3,563sf |
| Sept 25 | 242 | $620/sf | 64 | 3,548sf |
| Oct 2 | 237 | $622/sf | 64 | 3,560sf |
| Oct 9 | 251 | $624/sf | 61 | 3,509sf |
| Oct 16 | 252 | $616/sf | 61 | 3,507sf |
| Oct 23 | 261 | $623/sf | 61 | 3,476sf |
| Oct 30 | 252 | $624/sf | 62 | 3,476sf |
| Nov 6 | 257 | $628/sf | 61 | 3,443sf |
| Nov 13 | 258 | $626/sf | 62 | 3,442sf |
| Nov 20 | 246 | $630/sf | 65 | 3,404sf |
| Nov 27 | 237 | $636/sf | 70 | 3,407sf |
The OVER-$2,400,000 Market:
| | | | | |
| --- | --- | --- | --- | --- |
| Date | NSDCC Active Listings | Avg. LP/sf | DOM | Avg SF |
| Nov 7 | 418 | $0/sf | 136 | 0sf |
| Nov 14 | 418 | $0/sf | 136 | 0sf |
| Nov 21 | 415 | $0/sf | 140 | 0sf |
| Nov 28 | 415 | $0/sf | 143 | 0sf |
| Nov 28 | 415 | $0/sf | 143 | 0sf |
| Dec 5 | 410 | $0/sf | 140 | 0sf |
| Dec 12 | 398 | $979/sf | 143 | 6,264sf |
| Dec 19 | 380 | $992/sf | 147 | 6,259sf |
| Dec 26 | 373 | $991/sf | 152 | 6,304sf |
| Jan 2 | 344 | $987/sf | 148 | 6,342sf |
| Jan 9 | 347 | $985/sf | 146 | 6,333sf |
| Jan 16 | 355 | $945/sf | 140 | 6,317sf |
| Jan 23 | 359 | $988/sf | 138 | 6,251sf |
| Jan 30 | 367 | $969/sf | 139 | 6,350sf |
| Feb 6 | 380 | $975/sf | 131 | 6,252sf |
| Feb 13 | 394 | $0/sf | 131 | 0sf |
| Feb 20 | 400 | $0/sf | 125 | 0sf |
| Feb 27 | 395 | $0/sf | 128 | 0sf |
| Mar 6 | 387 | $0/sf | 129 | 0sf |
| Mar 13 | 389 | $1,050/sf | 120 | 6,116sf |
| Mar 20 | 385 | $1,044/sf | 122 | 6,211sf |
| Mar 27 | 382 | $1,047/sf | 124 | 6,237sf |
| Apr 3 | 383 | $1,046/sf | 120 | 6,227sf |
| Apr 10 | 386 | $0/sf | 120 | 0sf |
| Apr 17 | 395 | $0/sf | 118 | 0sf |
| Apr 24 | 414 | $0/sf | 110 | 0sf |
| May 1 | 426 | $0/sf | 108 | 0sf |
| May 8 | 444 | $0/sf | 110 | 0sf |
| May 15 | 432 | $0/sf | 112 | 0sf |
| May 22 | 431 | $0/sf | 109 | 0sf |
| May 29 | 435 | $0/sf | 111 | 0sf |
| Jun 5 | 424 | $0/sf | 114 | 0sf |
| Jun 12 | 432 | $0/sf | 116 | 0sf |
| Jun 19 | 437 | $0/sf | 118 | 0sf |
| Jun 26 | 435 | $0/sf | 117 | 0sf |
| Jul 3 | 437 | $0/sf | 117 | 0sf |
| Jul 10 | 429 | $0/sf | 118 | 0sf |
| Jul 17 | 435 | $0/sf | 115 | 0sf |
| Jul 24 | 440 | $0/sf | 115 | 0sf |
| Jul 31 | 444 | $0/sf | 115 | 0sf |
| Aug 7 | 438 | $0/sf | 116 | 0sf |
| Aug 14 | 435 | $0/sf | 119 | 0sf |
| Aug 21 | 430 | $0/sf | 117 | 0sf |
| Aug 28 | 429 | $0/sf | 118 | 0sf |
| Sept 4 | 401 | $0/sf | 119 | 0sf |
| Sept 11 | 399 | $1,132/sf | 122 | 5908sf |
| Sept 18 | 404 | $0/sf | 123 | 0sf |
| Sept 25 | 403 | $0/sf | 122 | 0sf |
| Oct 2 | 392 | $1,152/sf | 123 | 5,811sf |
| Oct 9 | 383 | $1,159/sf | 124 | 5,913sf |
| Oct 16 | 376 | $1,167/sf | 126 | 5,867sf |
| Oct 23 | 373 | $1,171/sf | 127 | 5,852sf |
| Oct 30 | 374 | $1,178/sf | 128 | 5,901sf |
| Nov 6 | 374 | $1,180/sf | 125 | 5,924sf |
| Nov 13 | 379 | $1,187/sf | 123 | 5,879sf |
| Nov 20 | 369 | $1,200/sf | 125 | 5,882sf |
| Nov 27 | 359 | $1,126/sf | 127 | 5,986sf |
Weekly NSDCC New Listings and New Pendings
| | | |
| --- | --- | --- |
| Week | New Listings | New Pendings |
| May 30 | 70 | 84 |
| June 5 | 87 | 64 |
| June 11 | 77 | 69 |
| June 17 | 73 | 66 |
| June 24 | 100 | 69 |
| July 1 | 86 | 64 |
| July 8 | 81 | 53 |
| July 15 | 106 | 54 |
| July 22 | 105 | 89 |
| July 29 | 71 | 74 |
| Aug 5 | 105 | 64 |
| Aug 12 | 77 | 61 |
| Aug 19 | 88 | 73 |
| Aug 26 | 87 | 77 |
| Sep 2 | 76 | 55 |
| Sep 9 | 85 | 58 |
| Sep 16 | 102 | 61 |
| Sep 23 | 84 | 54 |
| Sep 30 | 73 | 80 |
| Oct 7 | 80 | 61 |
| Oct 14 | 78 | 53 |
| Oct 21 | 70 | 63 |
| Oct 28 | 54 | 40 |
| Nov 4 | 63 | 53 |
| Nov 11 | 49 | 64 |
| Nov 18 | 52 | 44 |
| Nov 25 | 48 | 40 |
| Dec 2 | 25 | 34 |
| Dec 9 | 45 | 47 |
| Dec 16 | 56 | 46 |
| Dec 23 | 21 | 39 |
| Dec 30 | 14 | 23 |
| Jan 6 | 63 | 25 |
| Jan 13 | 75 | 44 |
| Jan 20 | 98 | 51 |
| Jan 27 | 71 | 56 |
| Feb 3 | 74 | 63 |
| Feb 10 | 95 | 59 |
| Feb 17 | 81 | 76 |
| Feb 24 | 80 | 70 |
| Mar 3 | 88 | 71 |
| Mar 10 | 98 | 54 |
| Mar 17 | 87 | 65 |
| Mar 24 | 89 | 76 |
| Mar 31 | 77 | 57 |
| April 7 | 98 | 61 |
| April 14 | 108 | 72 |
| April 21 | 87 | 62 |
| April 28 | 122 | 73 |
| May 5 | 144 | 67 |
| May 12 | 96 | 85 |
| May 19 | 87 | 61 |
| May 26 | 97 | 72 |
| Jun 2 | 90 | 59 |
| Jun 9 | 108 | 52 |
| Jun 16 | 103 | 65 |
| Jun 23 | 131 | 62 |
| Jun 30 | 85 | 70 |
| July 7 | 83 | 59 |
| July 14 | 100 | 62 |
| July 21 | 112 | 75 |
| July 28 | 113 | 62 |
| Aug 4 | 84 | 48 |
| Aug 11 | 95 | 62 |
| Aug 18 | 83 | 54 |
| Aug 25 | 72 | 54 |
| Sep 1 | 71 | 60 |
| Sep 8 | 81 | 57 |
| Sep 15 | 80 | 49 |
| Sep 22 | 77 | 49 |
| Sep 29 | 79 | 51 |
| Oct 6 | 78 | 54 |
| Oct 13 | 73 | 54 |
| Oct 20 | 70 | 64 |
| Oct 27 | 55 | 54 |
| Nov 3 | 60 | 45 |
| Nov 10 | 72 | 63 |
| Nov 17 | 57 | 65 |
| Nov 24 | 56 | 41 |
| Dec 1 | 41 | 37 |
| Dec 8 | 46 | 30 |
| Dec 15 | 31 | 34 |
| Dec 22 | 30 | 31 |
| Dec 29 | 15 | 25 |
| Jan 5 | 36 | 25 |
| Jan 12 | 85 | 40 |
| Jan 19 | 78 | 48 |
| Jan 26 | 74 | 50 |
| Feb 2 | 77 | 43 |
| Feb 9 | 106 | 68 |
| Feb 16 | 81 | 67 |
| Feb 23 | 86 | 63 |
| Mar 2 | 83 | 64 |
| Mar 9 | 99 | 68 |
| Mar 16 | 93 | 76 |
| Mar 23 | 101 | 84 |
| Mar 30 | 89 | 81 |
| Apr 6 | 80 | 58 |
| Apr 13 | 95 | 68 |
| Apr 20 | 101 | 70 |
| Apr 27 | 77 | 69 |
| May 4 | 112 | 74 |
| May 11 | 100 | 67 |
| May 18 | 109 | 80 |
| May 25 | 91 | 69 |
| June 1 | 91 | 70 |
| June 8 | 107 | 90 |
| June 15 | 99 | 67 |
| June 22 | 107 | 62 |
| June 29 | 100 | 74 |
| July 6 | 91 | 62 |
| July 13 | 126 | 58 |
| July 20 | 93 | 62 |
| July 27 | 83 | 74 |
| Aug 3 | 90 | 56 |
| Aug 10 | 93 | 57 |
| Aug 17 | 85 | 60 |
| Aug 24 | 73 | 60 |
| Aug 31 | 82 | 54 |
| Sep 7 | 87 | 59 |
| Sep 14 | 80 | 51 |
| Sep 21 | 74 | 48 |
| Sep 28 | 76 | 53 |
| Oct 5 | 83 | 53 |
| Oct 12 | 63 | 54 |
| Oct 19 | 67 | 45 |
| Oct 26 | 62 | 50 |
| Nov 2 | 77 | 60 |
| Nov 9 | 74 | 54 |
| Nov 16 | 70 | 56 |
| Nov 23 | 72 | 49 |
| Nov 30 | 35 | 42 |
| Dec 7 | 57 | 42 |
| Dec 14 | 53 | 41 |
| Dec 21 | 51 | 30 |
| Dec 28 | 15 | 25 |
| Jan 4 | 38 | 22 |
| Jan 11 | 84 | 43 |
| Jan 18 | 96 | 33 |
| Jan 25 | 102 | 42 |
| Feb 1 | 87 | 46 |
| Feb 8 | 88 | 55 |
| Feb 15 | 102 | 71 |
| Feb 22 | 100 | 52 |
| Feb 29 | 80 | 72 |
| March 7 | 123 | 52 |
| March 14 | 101 | 75 |
| March 21 | 90 | 75 |
| March 28 | 94 | 64 |
| April 4 | 112 | 72 |
| April 11 | 95 | 75 |
| April 18 | 99 | 81 |
| April 25 | 105 | 72 |
| May 2 | 115 | 65 |
| May 9 | 100 | 76 |
| May 16 | 113 | 70 |
| May 23 | 110 | 75 |
| May 30 | 102 | 83 |
| Jun 6 | 91 | 68 |
| Jun 13 | 104 | 58 |
| Jun 20 | 111 | 62 |
| Jun 27 | 109 | 69 |
| Jul 4 | 99 | 59 |
| Jul 11 | 73 | 43 |
| Jul 18 | 119 | 61 |
| Jul 25 | 108 | 68 |
| Aug 1 | 92 | 68 |
| Aug 8 | 103 | 63 |
| Aug 15 | 77 | 65 |
| Aug 22 | 80 | 66 |
| Aug 29 | 76 | 75 |
| Sept 5 | 89 | 67 |
| Sept 12 | 98 | 60 |
| Sept 19 | 95 | 69 |
| Sept 26 | 76 | 68 |
| Oct 3 | 78 | 69 |
| Oct 10 | 75 | 46 |
| Oct 17 | 92 | 60 |
| Oct 24 | 79 | 50 |
| Oct 31 | 59 | 54 |
| Nov 7 | 65 | 44 |
| Nov 14 | 75 | 45 |
| Nov 21 | 63 | 52 |
| Nov 28 | 31 | 34 |
| Dec 5 | 86 | 47 |
| Dec 12 | 46 | 41 |
| Dec 19 | 45 | 58 |
| Dec 26 | 21 | 26 |
| Jan 2 | 35 | 22 |
| Jan 9 | 73 | 38 |
| Jan 16 | 98 | 46 |
| Jan 23 | 74 | 59 |
| Jan 30 | 65 | 43 |
| Feb 6 | 101 | 55 |
| Feb 13 | 89 | 55 |
| Feb 20 | 92 | 57 |
| Feb 27 | 66 | 73 |
| Mar 6 | 102 | 66 |
| Mar 13 | 99 | 59 |
| Mar 20 | 93 | 82 |
| Mar 27 | 82 | 60 |
| Apr 3 | 104 | 70 |
| Apr 10 | 96 | 83 |
| Apr 17 | 99 | 69 |
| Apr 24 | 106 | 68 |
| May 1 | 111 | 88 |
| May 8 | 96 | 94 |
| May 15 | 93 | 80 |
| May 22 | 104 | 60 |
| May 29 | 112 | 93 |
| Jun 5 | 100 | 71 |
| Jun 12 | 98 | 71 |
| Jun 19 | 81 | 60 |
| Jun 26 | 86 | 48 |
| Jul 3 | 88 | 65 |
| Jul 10 | 80 | 55 |
| Jul 17 | 109 | 64 |
| Jul 24 | 86 | 61 |
| Jul 31 | 90 | 75 |
| Aug 7 | 99 | 71 |
| Aug 14 | 76 | 65 |
| Aug 21 | 83 | 62 |
| Aug 28 | 96 | 60 |
| Sept 4 | 74 | 71 |
| Sept 11 | 81 | 42 |
| Sept 18 | 77 | 47 |
| Sept 25 | 67 | 59 |
| Oct 2 | 71 | 61 |
| Oct 9 | 96 | 63 |
| Oct 16 | 72 | 51 |
| Oct 23 | 64 | 42 |
| Oct 30 | 55 | 43 |
| Nov 6 | 84 | 49 |
| Nov 13 | 81 | 39 |
| Nov 20 | 46 | 60 |
| Nov 27 | 23 | 37 |