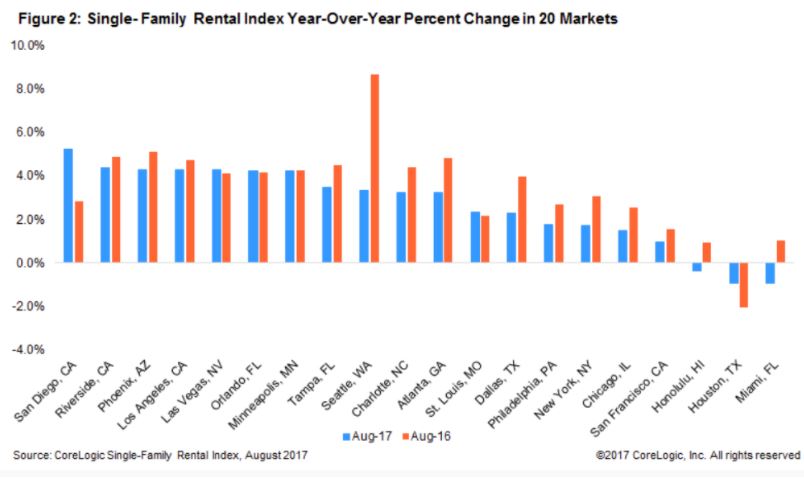 Even if the tax reform includes fewer incentives for buying, the rising rents should still help to power sales – and San Diego was #1 in the country for our 5% increase year-over-year!
http://www.mortgagenewsdaily.com/11082017_housing_affordability.asp
An excerpt:
Most of the 20 largest core-based statistical areas had rent increases, but those with limited new construction and strong local economies tend to have low rental vacancy rates and stronger rent growth.
The largest rate of growth was in San Diego, while Phoenix experienced 4.3 percent year-over-year rent growth, driven by employment growth more than double the national growth at 2.8 percent year over year.  In contrast, Houston, which has been hit with energy-related job losses since early 2015, saw rents decline by 0.9 percent year-over-year (pre-hurricane) and Miami was also down. Seattle's skyrocketing rents, and rents in other cities that experienced strong but less exuberant gains, saw growth moderating significantly.
But at first glance, renters are getting off easy when compared to those shopping for new homes and loans. Andrew LePage says that while home prices have risen about 6 percent over the past year, recent homebuyers have taken on mortgage payments that have risen closer to 10 percent.
He looked at the "typical mortgage payment", a monthly payment based on each month's U.S. median home sale price using Freddie Mac's average rate on a 30-year fixed-rate mortgage with a 20 percent down payment. The measure does not include taxes or insurance. The result, LePage says, is a good proxy for affordability because it shows the monthly amount for which a borrower would have to qualify to purchase a median-priced U.S. home. When adjusted for inflation, the typical mortgage payment also puts current payments in the proper historical context.
It can be misleading, the author says, to simply focus on the rise in home prices when assessing affordability. For example, the median home price in August was up 6.3 percent year-over-year in nominal terms, but, because mortgage rates had increased nearly 50 basis points over that period, the typical payment was 10.1 percent higher.