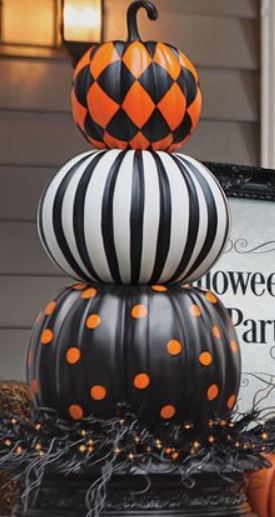 Kayla has never lived in the desert:
Even though it is "fall," it's 100 degrees outside. WHAT IS HAPPENING???
October is almost over and Halloween is ONE week away! Time to break out the decorations and start carving those pumpkins! Some might be thinking, "Mine are going to start rotting once I carve them" – the answer to that question is YES. However there is a solution to the problem!
Methods to have your pumpkin last longer:
https://food-hacks.wonderhowto.com/how-to/prevent-carved-uncarved-pumpkins-from-rotting-0158208/
Other people might be thinking, "I don't have time to sit and carve a pumpkin." No worries! There are other ways you can decorate a pumpkin. Something I've noticed that has become really popular is chalk paint! I currently just colored my pumpkins with a white and black chalk paint marker and it was SO easy. There's metallic chalk markers too! You can get them at Michaels!
http://www.michaels.com/metallic-chalk-marker-set-by-craft-smart/10481352.html
Some of the white pumpkins look so good (especially for those that have white/grey kitchens and living rooms) that you can use them throughout the holidays! We have a few white pumpkins at home and it looks awesome! Talk about #trendy.
Here's our Pinterest board if you want more ideas! It also includes cool unique decorations for your home!
https://www.pinterest.com/klingerealty/halloween-decorating/
Make sure to check out next week's Trendy Tuesday for my take on the best neighborhoods for trick or treating in North County San Diego!