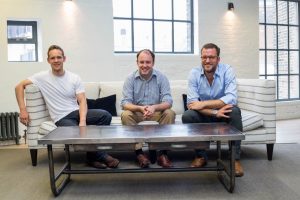 Talk about buying the listing! This is the UK version of Opendoor, and they are tempting sellers with a promise of a 97% cash advance on their house.  This idea is fantastic, and operators could make a bundle, right up until the market flattens out or declines. Then what?
An excerpt:
Nested, the U.K. estate agent that provides a cash advance to help you buy a new house before you've sold your old one, has raised £36 million in further funding. The round was led by Rocket Internet's Global Founders Capital, and brings the less than two year old startup's total funding to just shy of £50 million. Buying and selling houses is a pretty capital intensive business, after all.
Launched in January 2016, Nested competes with high end estate agents by providing all of the services needed to sell your house, but with a key difference. In addition to handling valuation, marketing and sales, the startup will offer you up to 97 per cent of the market value of your property as a cash advance, that way you're able you to purchase a new home prior to your old one selling.
Not only does this eliminate much of the stress and uncertainty of selling and buying a home, including what your final budget will be, but also ensures that you are never caught up in the dreaded property 'chain' and potentially miss out on your desired home, or are kept in limbo indefinitely waiting for your property to sell.
In return, Nested charges a fee from 2-4 per cent (plus VAT) depending on how long it thinks it will take to sell your home, and reduces that fee by half if it fails to sell the property for an amount above its initial valuation (something I'm told hasn't needed to happen yet). The idea is to incentivise the startup to always try to get you the genuine market price or above. It is also slightly different to the original pricing model that saw Nested split the difference 70/30.
In a brief call, Nested co-founder Matt Robinson, who previously co-founded online payments company GoCardless, told me that the startup's best sales funnel is people's bad experience trying to sell their home with a competing agency. He framed the current market as online-only estate agents who are targeting the low end by charging a flat up front fee but with little guarantee they'll go on to sell your home, and traditional brick 'n' mortar agents who no longer add as much value as they used to now that listings and market data has moved online.