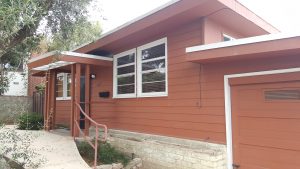 Dorothy's obit below:

A longtime resident of San Diego, Dorothy was born in 1925 in St. Louis, Missouri, to Fred and Stella Krenning. She was naturally gifted in mathematics, excelled in school, and graduated 2nd in her class at Soldan High School, St. Louis, at the age of 15. In 1939, she moved with her family to San Diego, and worked with her mother during the war years at Convair.
Every spare penny was saved for Dorothy's eventual college tuition. She earned two degrees in mathematics from San Diego State University: her Bachelor's in 1949, and her Master's in 1958.
During the 1950s, she allegedly became one the highest paid women in the county, working at the Naval Electronics Lab (NEL) in Point Loma as one of the early computer programmers on their first giant IBM mainframe. She was considered something of a technical genius who could troubleshoot any problem. To her, the giant machine was a friend with whom she communicated through the use of binary language punch cards. She loved her big IBM, and told anyone who would listen that computers were the future, and they had better buy IBM stock!
Although marriage was not on her horizon because she was so career-focused, she found George Roland Shumway a persistent suitor, and finally acquiesced to his proposal in 1948. The couple settled in Point Loma in 1949. While Dorothy worked full-time at NEL and completed her Master's in mathematics, George worked at Convair and built their home. She remembered "five solid years of sawdust and concrete floors."
Dorothy stopped work in 1962 when she gave birth to her only surviving child, Lauren (she had previously lost twin babies, born prematurely). In addition to being a full-time mother, Dorothy was very active in the community and a great advocate of early childhood education, supporting the summer reading program for children at the Ocean Beach Library. She was also a tireless advocate for the San Diego Blood Bank, and regularly participated in the Charger Blood Drive (donating over 64 gallons of blood) and the 5k runs.
Sadly, Dorothy was diagnosed with Alzheimer's in 2007, the same year she lost her beloved husband George to pancreatic cancer. Earlier this year, she suffered a major stroke from which she never fully recovered and passed away peacefully in her own bed on June 15.
http://www.legacy.com/obituaries/sandiegouniontribune/obituary.aspx?page=lifestory&pid=186149147