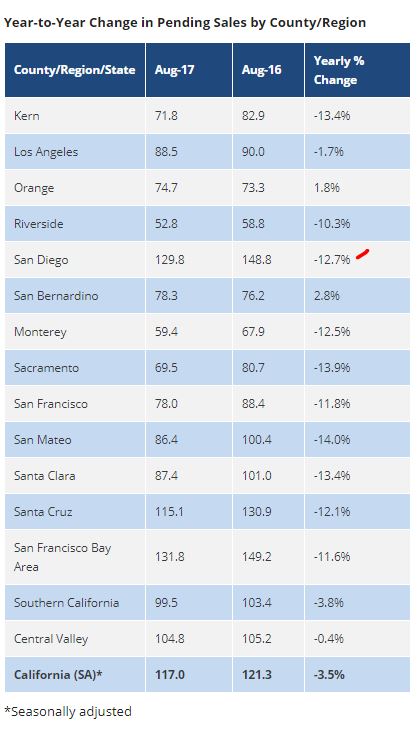 LOS ANGELES (Sept. 26) – Even with a strong performance in August closed escrow sales, California pending home sales stalled for the second consecutive month, which suggests a softening in the housing market in the upcoming months, the CALIFORNIA ASSOCIATION OF REALTORS® (C.A.R.) said today.
As August marks the end of the peak home-buying season, the housing market is showing signs of slowing as REALTORS® reported fewer floor calls, listing appointments, and client presentations. Open house traffic, however, remained strong in August, C.A.R.'s August Market Pulse Survey found.
Pending home sales data:
• Based on signed contracts, year-over-year statewide pending home sales fell in August on a seasonally adjusted basis, with the Pending Home Sales Index (PHSI)* declining 3.5 percent from 121.3 in August 2016 to 117.0 in August 2017. California pending home sales also declined down on a monthly basis, decreasing 2.0 percent from the July index of 119.4.
• Pending home sales have declined on an annual basis for seven of the last eight months so far this year. After a solid run-up of pending sales growth in April, May, and July, continued housing inventory issues and affordability constraints may have pushed the market to a tipping point, suggesting the pace of growth will begin to slow in the fall.
• Pending home sales were down 3.8 percent from the previous year in Southern California. Only Orange (1.8 percent) and San Bernardino (2.8 percent) counties posted a year-to-year increase. Los Angeles, Riverside, and San Diego counties registered lower annual pending sales of 1.7 percent, 10.3 percent, and 12.7 percent, respectively.
• C.A.R.'s Market Velocity Index – home sales relative to the number of new listings coming on line each month to replenish that sold inventory, or market indicator of future price appreciation – indicates that home prices should continue to stay strong as home sales continue to outstrip new listings, putting upward pressure on home prices through the fall.
• The Market Velocity Index increased from 59 to 69, indicating that there were 69 percent more homes sold than there were new listings. In other words, the supply of homes available for sale continued to drop, which will make the remaining units more competitive as net supply has deteriorated by roughly 45,000 units this year.
http://www.car.org/aboutus/mediacenter/newsreleases/2017releases/aug2017pending