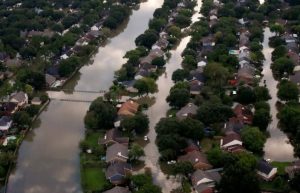 Hat tip to Richard for sending this in:
An excerpt:
Addressing a real estate conference in flood-ravaged Houston this month, longtime investor Ray Sasser detailed his strategy: buy up to 50 flooded homes at deep discounts, then fix and flip them for a hefty profit.
Sasser first followed that game plan after Tropical Storm Allison flooded the city in 2001. He bought homes for 30 to 40 percent of their pre-storm value, spent another 15 percent on repairs, and sold many a year later – at full value.
The quick recovery surprised him, he said.
"This can't be true," he recalled thinking at the time.
The bet that home prices in hard-hit Houston neighborhoods will fully recover after Hurricane Harvey could be riskier, Sasser and local economists said. But a rush of investors eager to snap up flooded homes reflects broader confidence in the resilience of Houston's unique metropolitan economy.
While the region's unchecked development has come under fire for exacerbating flooding, it also reflects its core strength: A rare combination of rich job opportunities and low cost of living, driving explosive population growth in America's energy capital.
The surging demand has sustained home prices through four major floods since 2001 and a historic oil price crash starting in 2014. Though Harvey caused far more damage than previous storms, investors such as Sasser see plenty of opportunity in the region's estimated 268,000 flooded homes.
Tara Waggoner, the Houston market manager for brokerage and online listings firm Redfin, said the firm's local agents were getting about four times the number of calls they usually get from investors. They ranged from individuals looking to buy one flooded house to groups of ten or more pooling their money for a home-buying spree, she said.
"You have people with millions of dollars to work with," she said in an interview days after the storm. "They want to go in, pay cash, get the discount and fix it up to sell."
Read full article here: