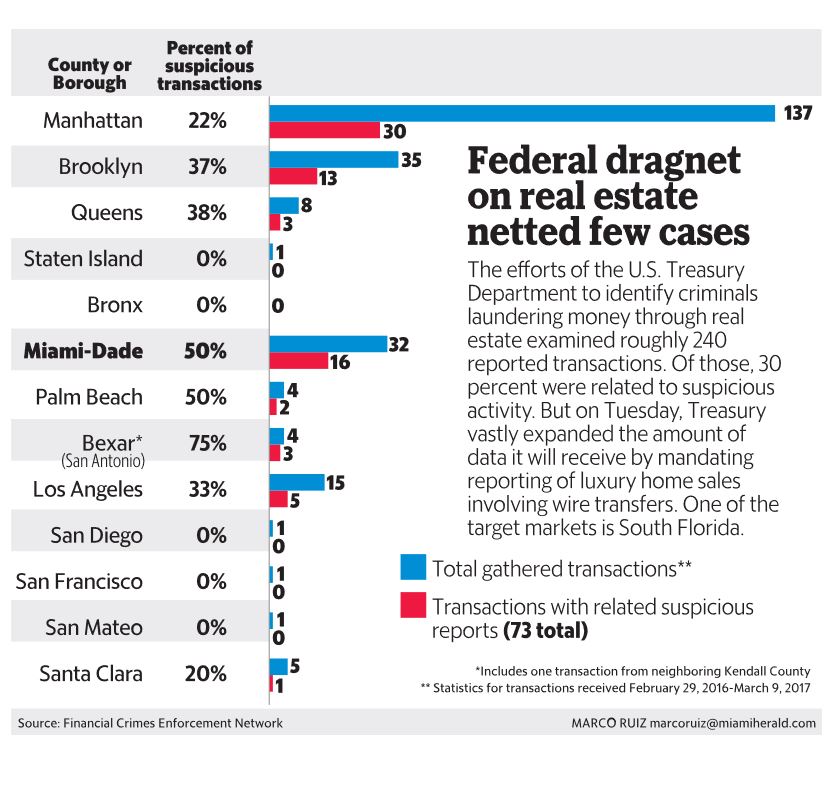 In San Diego, this applies to cash sales over $2,000,000 to LLCs.
Wake up and smell the dirty money.
That's the message federal regulators are sending to the real estate industry in Miami and other high-priced housing markets.
On Tuesday, the U.S. Treasury Department announced it would extend and expand a temporary initiative designed to uncover criminals laundering money through real estate. The decree targets secretive shell companies — corporations that don't have to reveal their true owners — buying luxury homes. The feds have already renewed the rules twice since announcing them in January 2016.
But this time, there's a big difference — and it's putting Miami's struggling condo market under even more scrutiny.
The rules, previously so limited in scope that they applied only to a few hundred deals, will now cover every big-ticket cash transaction by shell companies in seven major markets. They are the South Florida counties of Miami-Dade, Broward and Palm Beach; all five boroughs of New York City; San Antonio, Texas; Honolulu (included in the order for the first time); and Los Angeles, San Diego and San Francisco.
"This is going to gather much more information," said Andrew Ittleman, a South Florida attorney who specializes in anti-money-laundering laws.
Critics dismissed Treasury's original anti-money laundering rules — first deployed in Miami-Dade and Manhattan last year — as so narrow that they were practically toothless.
That's because only less common methods of cash payments such as money orders, personal checks and hard currency had to be reported.
But the latest order includes wire transfers, which are electronic exchanges of money between banks. In most home sales that don't involve bank loans, money is sent from buyers to sellers through wire transfers. Regulators were missing out on a huge swath of transactions.
"It exempted most people from disclosure," said Alan Lips, a partner at Miami accounting firm Gerson Preston. "In today's world, people wire money."
Read more here: http://www.miamiherald.com/news/business/real-estate-news/article168915302.html