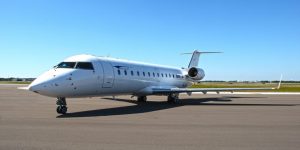 Finally!
What happens in Las Vegas will soon be able to start at San Diego County's McClellan-Palomar Airport in Carlsbad.
County of San Diego, Elite Airways and Cal Jet Air officials announced Wednesday at McClellan-Palomar that "Cal Jet by Elite Airways" plans to start flying commercial flights twice a day between the airport and Las Vegas starting Sept. 28.
The airline has already started taking reservations for tickets on its website.
County officials said Cal Jet by Elite Airways plans to operate a single Bombardier CRJ700 jet, which has 64 seats, from McClellan-Palomar.
The flights will allow local residents a way to comfortably fly without having to drive downtown to San Diego International Airport, and become the first commercial air service at McClellan-Palomar since 2015.
McClellan-Palomar is one of eight airports operated by the County of San Diego's Department of Public Works and the only one that offers commercial flights for county residents. Like all other commercial airports, passengers at McClellan-Palomar must check in for flights and be screened by federal Transportation Security Administration agents. However, because McClellan-Palomar is a smaller airport, passengers can escape the traffic, expensive parking and long security lines at other major airports.
The County has made several improvements at McClellan-Palomar in recent years, including a $24 million renovation in 2009 that added a modernized, 18,000- square-foot terminal, parking and a restaurant, "The Landings."
Parking at McClellan-Palomar is $5 a day.
For more information or to book flights, go to Cal Jet by Elite Airways website.
http://www.countynewscenter.com/countys-mcclellan-palomar-airport-gets-commercial-air-service/