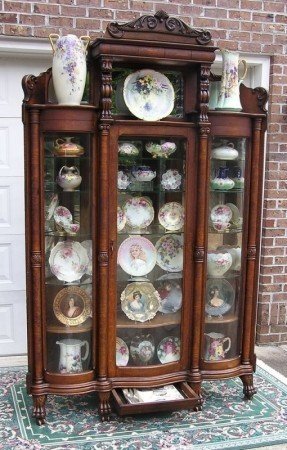 It's all junk now – do your kids a favor and ditch it while you can! H/T daytrip:
http://www.nextavenue.org/nobody-wants-parents-stuff/
So please forgive the morbidity, but if you're lucky enough to still have one or more parents or stepparents alive, it would be wise to start figuring out what you'll do with their furniture, china, crystal, flatware, jewelry, artwork and tchotchkes when the mournful time comes. (I wish I had. My sister and I, forced to act quickly to avoid owing an extra months' rent on dad's apartment, hired a hauler to cart away nearly everything we didn't want or wouldn't be donating, some of which he said he'd give to charity.)
Many boomers and Gen X'ers charged with disposing the family heirlooms, it seems, are unprepared for the reality and unwilling to face it.
Dining room tables and chairs, end tables and armoires ("brown" pieces) have become furniture non grata. Antiques are antiquated. "Old mahogany stuff from my great aunt's house is basically worthless," says Chris Fultz, co-owner of Nova Liquidation, in Luray, Va.
On PBS's Antiques Roadshow, prices for certain types of period furniture have dropped so much that some episode reruns note current, lower estimated appraisals.
And if you're thinking your grown children will gladly accept your parents' items, if only for sentimental reasons, you're likely in for an unpleasant surprise.
"Young couples starting out don't want the same things people used to have," says Susan Devaney, president of NASMM and owner of The Mavins Group, a senior move manager in Westfield, N.J. "They're not picking out formal china patterns anymore. I have three sons. They don't want anything of mine. I totally get it."
Read full article here:
http://www.nextavenue.org/nobody-wants-parents-stuff/
The biggest consignment store in North County: