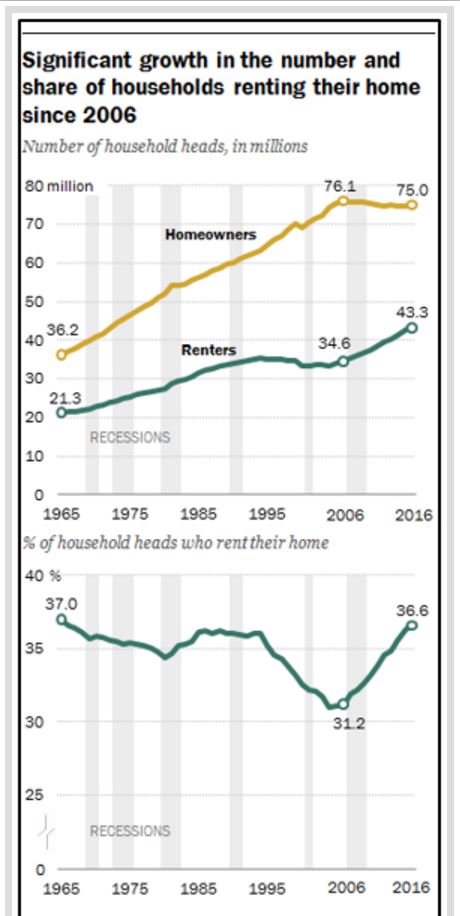 Hat tip to Carlsbad Mark for sending in this article!
More Americans are renting their homes than at any point since 1965, according to a new study by the Pew Research Center.
The total number of households in the U.S. grew by 7.6 million between 2006 and 2016.  But over the same decade, the number of American households living in a home they own remained essentially unchanged.
Meanwhile, the percentage of Americans renting their homes increased dramatically. It jumped from 31.2% in 2006 to 36.6% in 2016.
And that figure continues to rise …

The latest percentage of renters now stands higher than the 36.2% of 1986 and 1988. It's now within a whisper of the all-time high of 37.0%, set in 1965.
I believe the root of the rising rental rates is economic hardship.
Only a small percentage of people who rent do so voluntarily. Most get pushed into renting because of financial circumstances.
When Pew surveyors asked renters why they rent, a whopping 65% cited financial circumstances. Only 32% said they rented as a matter of choice.
The three largest groups of traditional renters — young adults, blacks and Hispanics — are still the most likely to rent.
But the rental rates also increased for older adults, whites and college- educated households.
Worse yet, there is a large contingent of Millennials who aren't even renting.
They choose to live in Mommy and Daddy's basement. In 2016, an alarming 34.1% of 18- to 34-year-olds lived with a parent.
The "Basement Generation" makes a sad testament about the state of our economy.
But I place most of the blame at the feet of Mr. Magoo (Ben Bernanke) and Mrs. Magoo (Janet Yellen).
Their ridiculously nearsighted, low-interest-rate policies have made it impossible for millions of Americans to afford a home.
Read more here: