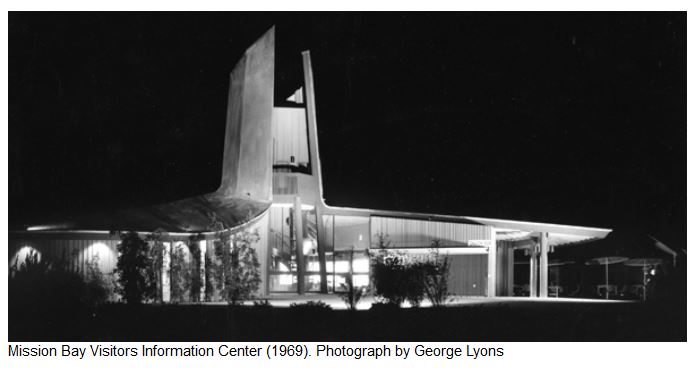 Finally something will be done with this building! Hat tip Keith:
Architect Dick Lareau studied under sculptor John Dirks and painter Jean Swiggettat while attending San Diego State College prior to transferring to Cal/Berkeley. Following his return to San Diego, Dick started his professional career in the office of Kitchen & Hunt and later for Paderewski, Mitchell & Dean until he opened his own office on 6th Avenue in 1957. Over the years, Mr. Lareau built a successful practice – often noted for the designs for the Cal Western campus (later Point Loma Nazarene). Mr. Lareau will speak on his career and experiences on Thursday, November 16th at the Point Loma Assembly from 5-7pm.
It was recently announced that Lareau's Mission Bay Visitors Information Center (1969), which for decades welcomed tourists and locals, "…will be transformed into a casual restaurant with outdoor dining, plus beach and bike rentals," according to the UT. Following San Diego City Council approval of a new long-term lease with San Diego-based Playground Concepts, the 2.6-acre city-owned site on East Mission Bay Drive will be renamed Shoreline Mission Bay.