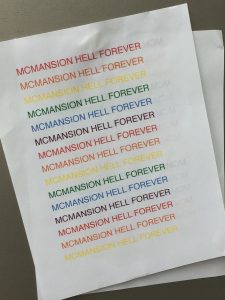 From the seattletimes.com – hat tip SM:
Excerpts:
Zillow is dealing with a PR fiasco and a potential legal fight for going after a small, popular blog that makes fun of McMansions.
Kate Wagner — who spotlights large, ugly-looking houses on McMansionHell.com — received a cease-and-desist letter from the Seattle company this week, telling her to stop using Zillow photos on her site. She often makes memes out of Zillow home listing photos, pointing out features of home exteriors and rooms that are not exactly likely to win architecture awards.
Wagner said Tuesday she received emails from about 200 lawyers, and has retained the Electronic Frontier Foundation to represent her, pro bono. They plan to respond to Zillow soon.Outside Zillow's headquarters in downtown Seattle on Tuesday morning, someone plastered the walls with many colorful signs reading "MCMANSION HELL FOREVER."
"First of all, I was petrified," said Wagner, a 23-year-old master's student in Baltimore, who is working on a thesis on architectural acoustics. Zillow's letter said Wagner ran afoul of Zillow's terms of use and may violate the Computer Fraud and Abuse Act and state laws. "It's pretty terrifying when someone issues you a letter saying you're a criminal and you're going to jail."
Zillow was clearly taken aback by the PR backlash to the saga, which has been making the rounds on national and local news sites for the last 24 hours.
Zillow's top public affairs person, vice president Katie Curnutte, sent Wagner an email Tuesday morning that struck a much friendlier tone. She started by acknowledging Zillow has received several questions from journalists about the initial letter from Zillow's legal team.
The company is already in the middle of a legal battle on another photo copyright issue and may owe millions of dollars in damages to a real estate photography firm.
Zillow spokeswoman Emily Heffter said that if other sites start publishing photos from Zillow, it could become harder for Zillow to obtain listings from realtors, which provide them under an agreement that only Zillow can use them.
"If we were to back off this, and everyone started taking photos off our site and using them, we'd have a lot of trouble getting photos for our site," Heffter said. "When you make a deal with someone, you have to hold up your end of it."
"It's nothing personal," she added.
Save